This year again between December 10th and 24th, Sun Youth will be handing out Christmas baskets to some 5000 underprivileged Montreal families and nearly as many new toys to their children 12 years and under. Those interested can already register to receive one of these baskets by presenting themselves at the Sun Youth Service Center located at 6700, Park Avenue (Montreal H2V 4H9) with a proof of address, a proof of income and identification documents for all family members living under the same roof. No appointment is necessary for the registration and people are asked to come Monday through Friday between 9 am and 4 pm.
To accomplish this annual mission Sun Youth is asking the public and companies to show their generosity by organizing collects of non-perishable food and new toys. The organization is especially looking for pasta, pasta sauce, rice, legumes, peanut butter and canned fish such as tuna or salmon. Hygiene products are also highly sought after. Basic food products allow families benefiting from the help of Sun Youth to prepare more meals with the items they receive as emergency food assistance. Funds collected are also used to purchase perishable and non-perishable food to supplement what is received in donations; products such as milk and eggs are systematically included in the baskets as well as frozen meat. As for toys, the organization is mostly in need of gifts for 0 to 2 year-old boys and girls and of board games for children 8 to 12 years old. A pickup service is available for large donations and can be booked by phoning Sun Youth at 514-842-6822 or by emailing pickup@sunyouthorg.com. People can also drop off their donation at Sun Youth Monday through Friday from 8 am to 6 pm and on weekends between 10 am and 6 pm.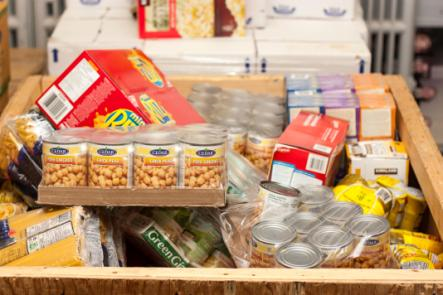 Sun Youth is always looking for food donations, especially for its annual Christmas basket distribution. Photo courtesy of Sun Youth.