On August 25th la Ligue Fédérale des As (LFA) held its 2019 Summer Final Championship Game at the Collège Notre-Dame Arena. Thanks to the combined efforts of participants, players and organizers, $5,018 was raised for Sun Youth's Emergency Food Bank. These funds will be used to purchase perishable and non-perishable food to assist the organization's underprivileged clientele, some 2,400 families each month. This donation is much welcome at this time of year with the Holiday season approaching when Sun Youth will distribute Christmas baskets to 5,000 families, or about 10,000 people in need.
On an annual basis, the Sun Youth Food Bank supplies over 27,000 emergency food hampers to those in need. 40% of the food bank's users are youngsters under 18 years old. Of this number, 80% are children under 10 years of age. The support of donors is essential in maintaining this service, for the welfare of the beneficiaries and for the proper development of the youngest among them.
Beyond its mission to offer the ultimate adult hockey experience for all its members, the LFA also plays an important role in social engagement, particularly with Sun Youth. In recent years, the league has supported several of the organization's programs, raising over $ 48,000 for various initiatives such as the hockey development program and the food bank. The LFA thus plays a leading role in raising awareness of food insecurity, poverty and social exclusion. Like Sun Youth it also has the wellness of young people at heart.
Sun Youth's Board of Directors, management, staff and volunteers wish to thank everyone involved in the LFA's 2019 Summer Final Championship Game for bringing such a nice contribution to the organization. On behalf of the many families who will benefit from this generosity, thank you for making a significant difference in their lives!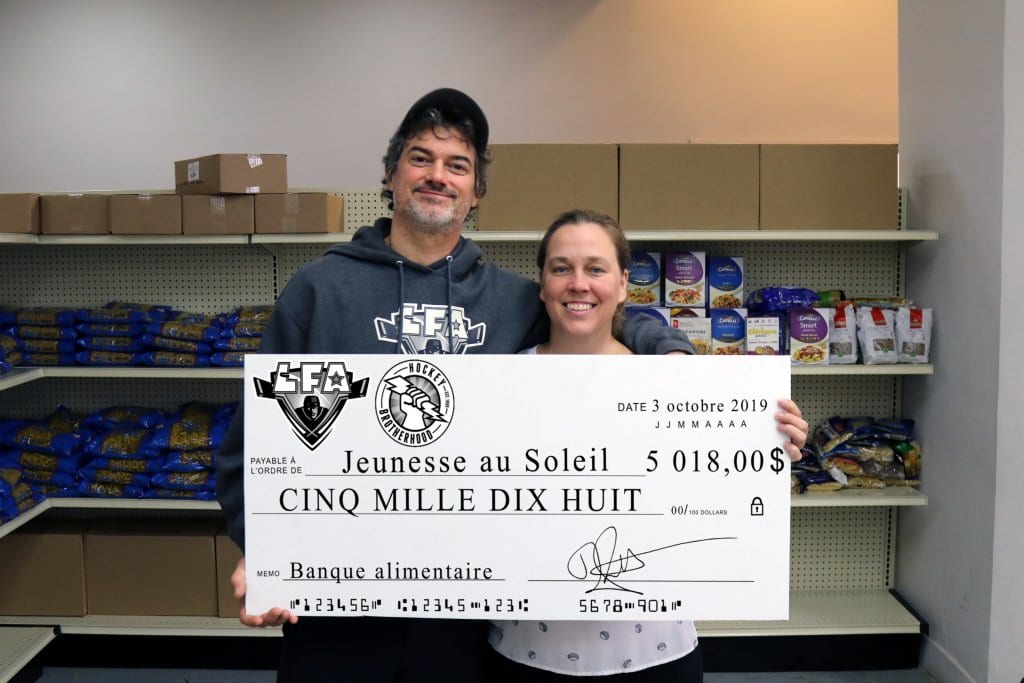 LFA Founding President Jean-François DesBois (left) presenting Sun Youth's Director of Communications and Community Services Ann St Arnaud (right) with the funds raised through the league's 2019 Summer Final Championship Game. Photo: Nicolas Carpentier.