Sun Youth has always been about furthering opportunities, and this holds true today – especially when it comes to the education of our kids. 
Fortunately, Montreal-based ULTRA Forensic Technology, a worldwide leader in automated ballistic identification, has been able to help Hornet alumni with bursaries for CEGEP expenses. 
The former Sun Youth student-athletes are playing their sport and continuing their education at various CEGEPs around Quebec. As a result, they were awarded Ultra bursaries to help further their journeys, November 29 at Sun Youth headquarters. Alvaro Venegas, Ultra President, and Melanie Roy, also from Ultra, were on hand, along with Sun Youth's Football Coordinator Jesse Blizzard, Recreation Coordinator and football coach Duane Collins, assistant Will Benoit, and Athletic Director Guinness Rider.

Aligned values
Mr. Venegas presented the awards and noted that, 'Sun Youth's values perfectly align with our own,' expressing happiness to be part of furthering youth educational opportunities for a second year running. The bursaries will go toward the regular fees incurred by the students, who are all playing their chosen sport – football or basketball – at their new schools. 
'Having a partnership with Ultra means being able to put our values into real terms: a whole-package experience for kids through sports,' added Mr. Rider.
Recipients of this year's Ultra CEGEP scholarship awards were: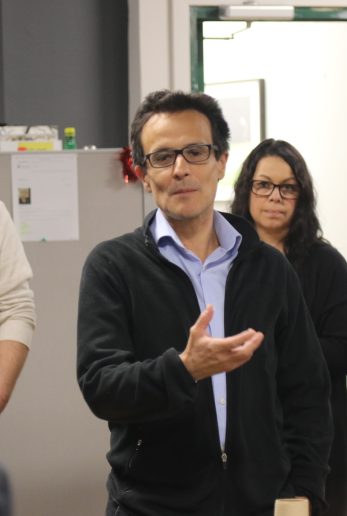 Basketball
Craig Bryan Wafo Kouam (Dawson)
Don Enricho Mansay (Dawson)
Noah Sanon-Radulescu (Brebeuf)
Dzidula (Didou) Marylight Sowadan (Montmorency)
Football
Mamadi Kaba (Vieux-Montreal)
Kenny Alcius  (Vieux-Montreal)
Mendel Joseph (Vieux-Montreal)
Abdala Traore (Vieux-Montreal)
Aaron Kese (Champlain St-Lambert)
Kenny Alcius (Champlain St-Lambert)
Konstantinos (Kosta) Floros (Champlain St-Lambert)
Justin Frattaroli  (Vanier)
Karim Lyem (Vanier)
Luca Lapaix (Vanier)
Scholarships are part of the continuum of services Sun Youth offers young people to promote their development, a continuum that includes equal access to sports, day camps, after-school activities and mentoring. Over 2,000 children participate in Sun Youth's activities each year.
Sometimes an extra helping hand is needed for some kids.  The scholarships are awarded on a basis of merit, financial need and perceived ability to make the most of them.