Sun Youth was able to reach its goal and raised $1,000,000 since the beginning of its golf tournament.
For the past 15 years, the Sun Youth Annual Mordy Gordon Memorial Golf Tournament has been a special day where everyone gathers for a great cause. This year's golf tournament was once again held at Elm Ridge Country Club. In addition, Sun Youth hosted, in collaboration with Burovision, its second Cyclothon which was a great success once again.
On August 9th, 125 golfers and 30 cyclists, including the Mayor of Pierrefonds, Dimitrios Jim Beis, gathered to support Sun Youth's Sports and Recreation Programs for children. During this special day, the guests had the opportunity to play golf on the magnificent Elm Ridge golf course, or enjoy the picturesque landscape of Île-Bizard by bike. Golfers were treated all day with food from Boulangerie Marguerita, Les Délices Lafrenaie,  EuroMarché,  Roma Foods, Emma Boutique Gourmande, Les Service de Traiteur M. Gérard, Importations L. Mara Inc. and gifts from Stokes Inc. Bikers were provided with energy bars by Noble Foods Inc, a bicycle tune-up by Bicycles MCW. After the ride, they were invited to take a dip in the pool, and enjoy refreshments from Les Brasseurs RJ. Sponsors also included BMW Laval and Deshaies Moto. The event was also full of emotions with the recent passing away of Sun Youth confounder Earl De La Perralle. A video tribute was presented which featured many "Sun Youth kids" on whose lives Earl had a tremendous impact. Sun Youth Hornets alumni and current Board member of the organization Dimitri Manonlopoulos was this year's guest speaker while long-time Sun Youth supporter Renzo Fraraccio was honoured for his outstanding involvement with the organization.
After this beautiful summer day, cyclists and golfers both joined for cocktails and were treated to a delicious supper. As is now the tradition, guests could bet on an array of items at a silent auction while a few selected prizes were offered in a live auction. Both auctions featured various interesting items including sports memorabilia such as a Troy Polamalu Jersey and a Serge Savard autographed Montreal Forum brick, a Jean Béliveau signed Jersey, a pair of tickets for the Raptors/Lakers basketball game and a BMW Bicycle. Thanks to the generosity of all those in attendance and to the support of all donors, past and present, Sun Youth was able to raise close to $1,000,000 in 15 years.
Special thanks go to the tournament partners Des Sources Chrysler Dodge Jeep RAM Fiat and Burovision for once again renewing their support, as well as the tournaments major sponsors Fabricland Distributors Inc., Pipe & Piling Supplies Ltd., Trams Property management, Herzing College, the National Bank of Canada and RBC Dominion Securities. The event concluded with a raffle featuring this year's grand prize, a trip for two to Switzerland, courtesy of Swiss International Airlines. Our sincere thanks to the organizing committee, sponsors, all golfers and cyclists for their enthusiasm and generosity, special guests Serge Savard, Hornets alumni and Olympian Lizanne Murphy, who all helped make this event a success. Special thanks to Montreal comedian Joey Elias and Nicolas Carpentier for hosting the evening. We hope to see everyone back next year for the 16th anniversary of Sun Youth's Mordy Gordon Memorial Golf Tournament and Cyclothon!
Album available on Sun Youth Facebook Page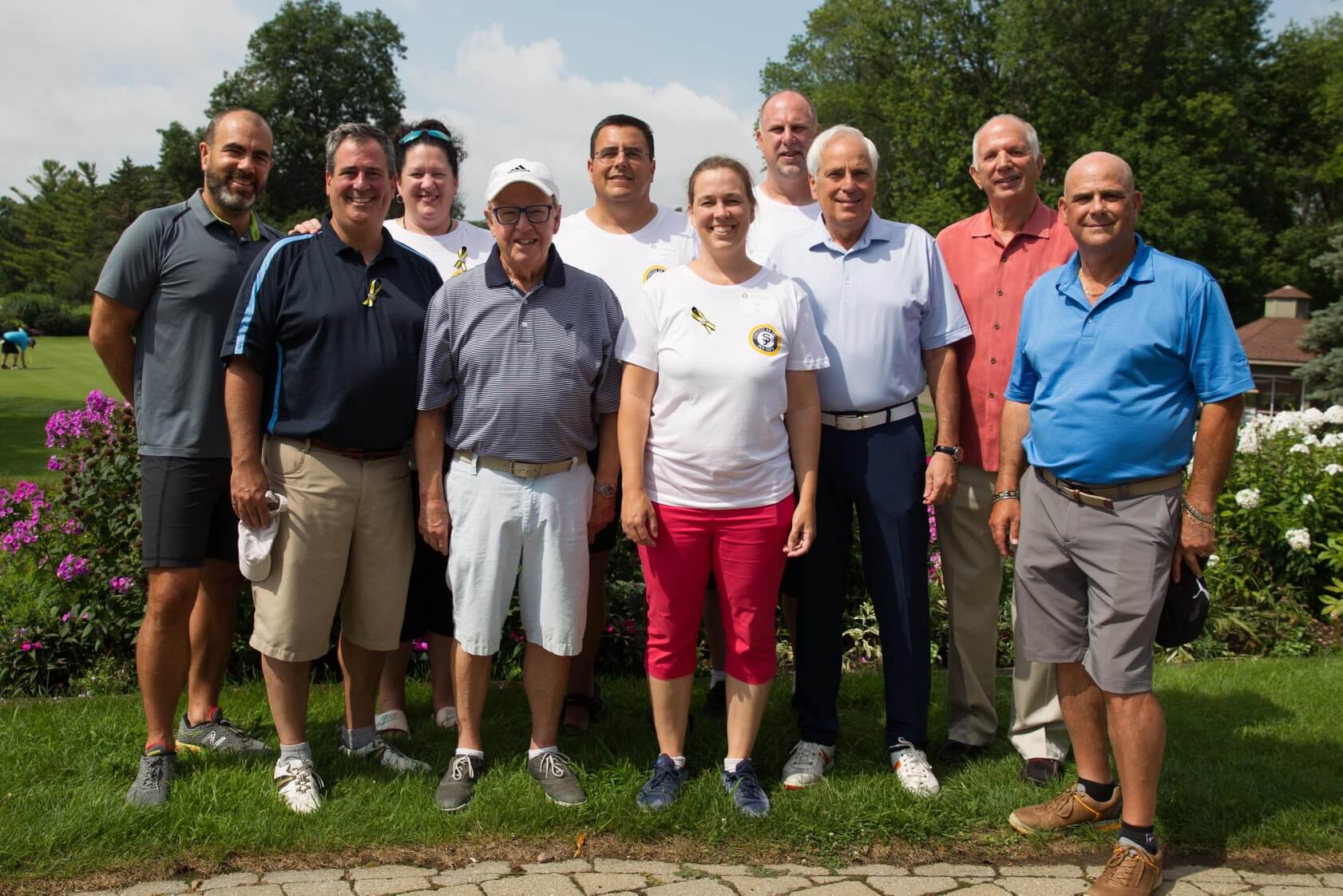 Photo Above (left to right): The Sun Youth Golf and Cyclothon Organizing Committee: Robert Gordon, Jamie Ross, Kara De La Perralle, Lewis Backler, Daniel Rousseau, Ann St Arnaud, Ernest Rosa, Marvin Pascal, Andrew Toeman and David Moscovitz. Absent from the picture are Lewis Israel, Jesse Blizzard and Jerry Romisher.