On September 18th, representatives of the CLV Group and InterRent REIT offered a donation of $25,000 to Sun Youth.
Since its foundation, Sun Youth has been committed to the promotion of healthy lifestyles and school retention. To promote the physical, social and intellectual development of young people, Sun Youth offers children from 5 to 12 a day camp that is both fun and educational and youth from 6 to 17 years, an alternative to channel their energy positively through sport while supporting their education.
Over 800 children and young people annually benefit from Sun Youth's sports and recreation programs and day camp. The proper physical development of children also requires a healthy diet and Sun Youth is also there to support children in that regard. The organization's statistics show that 39% of its food bank users are children and teens aged 18 years old and younger. Of this number, 80% are under the age of 10. Thankfully the CLV Group and InterRent REIT are there to support both initiatives which benefit underprivileged children.
On September 18th, Sun Youth had the pleasure of welcoming representative of the CLV Group and InterRent REIT to receive what would be their second annual donation. Back In 2017, Sun Youth received a first donation of $15,000 for its Summer Campaign (Sports & Recreation programs and Day Camp). For 2018, the good people of CLV Group and InterRent REIT really went the extra mile and greatly increased their support, making a substantial donation of $25,000 to the Sun Youth Sports & Recreation program ($15,000) and it's Food Bank initiatives for children ($10,000).
 "We, at the CLV Group have for many years, seen the great work and the positive impact that Sun Youth has made on many of Montreal's youth. This iconic organization has contributed so much to the community. We are thankful we can help such a well deserving organization in a small way" said Mike McGahan, President of CLV Group.
Sun Youth is very proud to once again be associated with the CLV Group and looks forward to helping children from less fortunate backgrounds participate in sports and recreation programs in a safe and constructive environment and to receive the proper nutrition through its emergency food bank.
About CLV Group: CLV Group and InterRent REIT have redefined what a property management and multi-family real estate company can be. Backed by almost 50 years of experience in the industry, we have become market leaders in real estate, property management, acquisitions and new development in our core markets which include the Greater Toronto Hamilton Area, Ottawa, and Montréal.  Within Montréal, we are proud to present various properties for different lifestyles offering amenities ranging from laundry rooms, to rooftop terraces, gyms and pools. Properties are located in Côte Saint-Luc, Downtown Montreal, Plateau Mont-Royal and Villeray. We are proud to give back to our communities and get involved with charities that make an impact. (Source : CLV Group)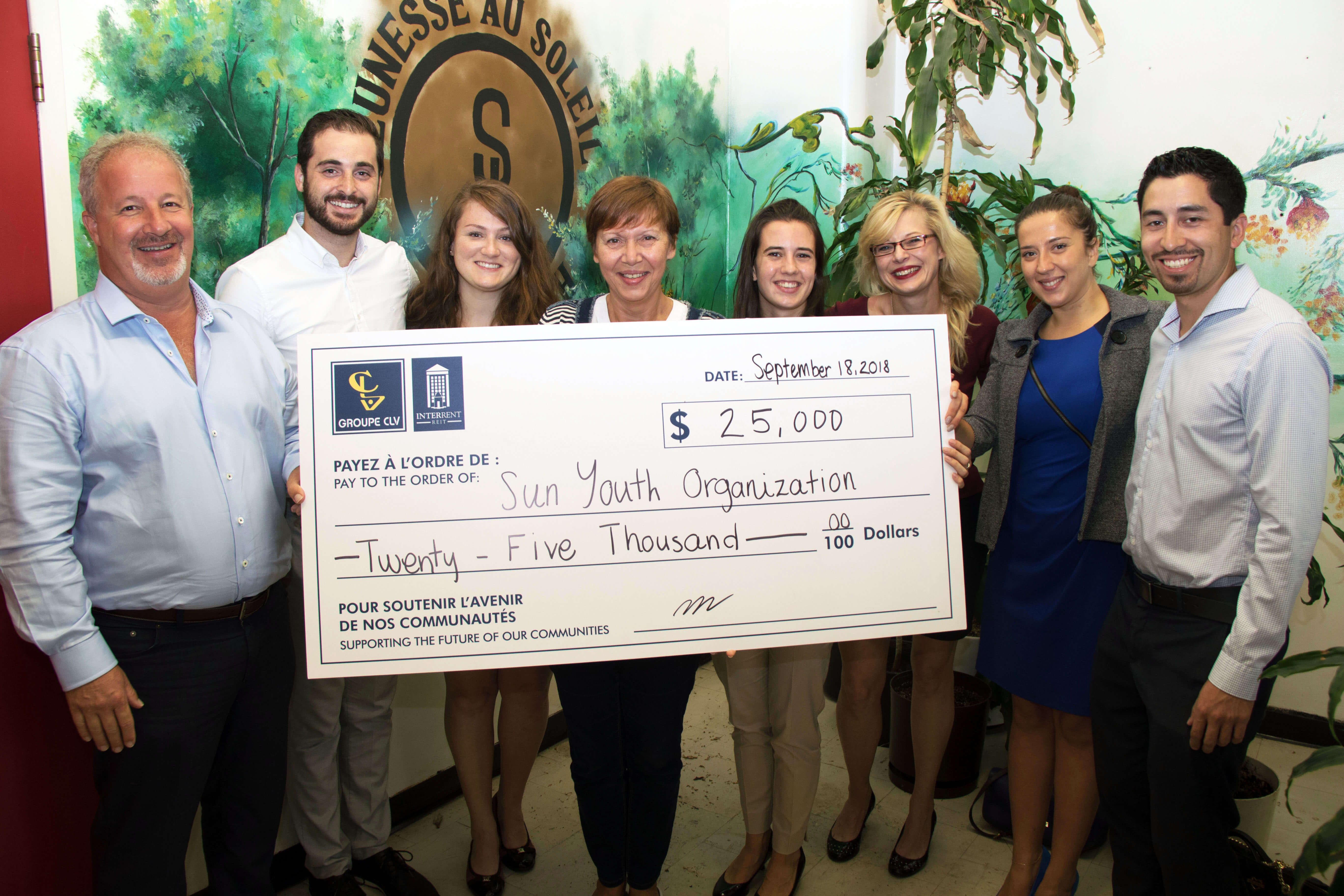 Mike McGahan (President), Youssef El Hachimi (Property Manager), Nadia Ickx (Customer Care Coordinator), Johanne Saltarelli (Interim Executive Director of Sun Youth), Marie Pelletier-Matte (Marketing Coordinator), Karolina Craig (Acquisitions Director), Evguenia Kapchii (Acquisitions Manager), Andre Luna-Beaudoin (Sales Manager). Photo: Nicolas Carpentier.