Sophie Roy is one of the many volunteers who make the Sun Youth Hornets football program possible
For International Women's Day held on every March 8th, we are featuring a volunteer who has been playing a huge part in our football program for the last 9 years. Proud mother of two, Sophie Roy is one of the many volunteers who make the Sun Youth Hornets football program possible for nearly 150 youngsters every year.
Her involvement with the organization started when her youngest son Marc-Antoine joined the Atom team at the age of 8. Wanting to be more than just a "football mom" she offered to help the team manager. Her first duty was to ensure kids would get nutritious snacks when training or playing. With the departure of the manager at the end of the season, she took on more responsibilities. She first created a document for parents explaining the course of the season and everything else they needed to know. "All the parents have the same questions", she says. She made sure to include the coaches' names and picture so children would not only know them as "coach". Along with fellow volunteer Louise Blizzard, she is also responsible for taking care of the contracts that players have to sign to take part in football. "It's a lot of coordination but I like doing that!", says Sophie.
As her son climbed the ladders of the program, Sophie took on the responsibilities of every new level, now working on the paperwork and the administration for the Atom, Mosquito, Pee-wee and Bantam levels. She also takes care of communications with the coaches, the parents and the players through various means including Facebook. As a mother figure to all, she will often remind players to dress warm for a cold weather game or practice, especially during playoff time.
While it is already very demanding to be the parent of an athlete ("athletes" in her case as her oldest son is involved in swimming), Sophie and her boyfriend, also a coach with the Hornets, were never ordinary parents. Even out on vacation camping, they would come back to town just for their son to attend practice sessions. "Our philosophy is, when you commit to something, you do it 'till the end!"
When asked what volunteering at Sun Youth brings her, she says: "It makes me feel good to help others. It makes me happy to be there, to know that the kids know they can count on me. I like seeing them evolve." She is also grateful for the diversity that the program has exposed her son to – a diversity that is cultural but also found in the teammates' different family backgrounds. It shows him that "there are other things in life than comfort", she concludes.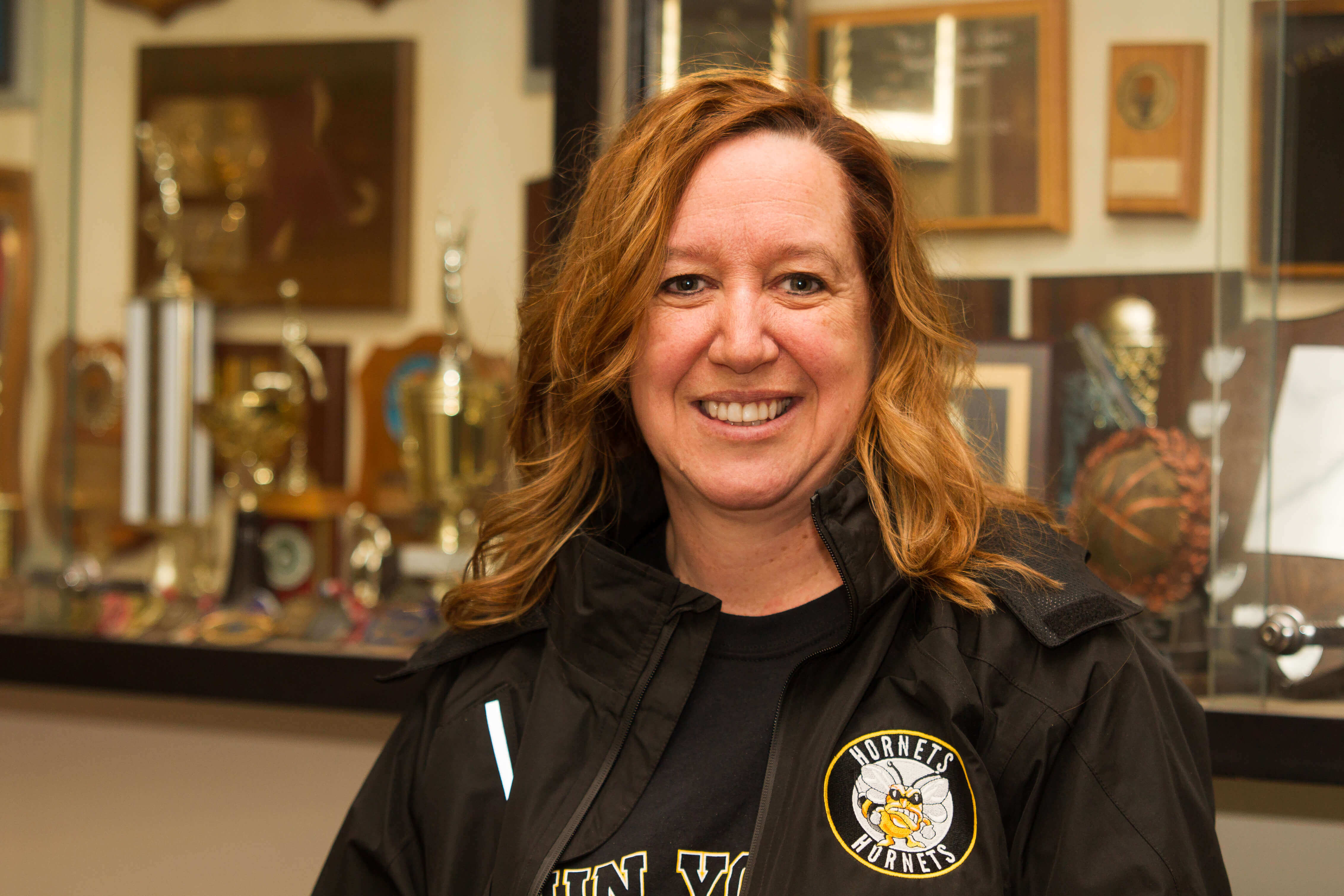 Volunteer Sophie Roy is a real mother for the Sun Youth Hornets Football program.