The QMFL honoured him with a Lifetime Achievement Award for its 40 years of service to the league and to the community.
Anybody involved with youth football in Quebec knows the name Earl De La Perralle or as he's often referred to, "the Godfather". Every year the Quebec Midget Football League (QMFL) gathers for its annual awards banquet where they hand out trophies to the best players at each position in addition to the offensive and defensive MVPs.
On February 3rd at Montreal's Sheraton Hotel the league honoured Earl De La Perralle with their first "Lifetime Achievement Award" in recognition for more than 40 years of service to the league and to the Greater Montreal community. The QMFL invited three guest speakers to present Mr. De La Perralle with the award and share some personal anecdotes about what he means to them as well as the life lessons he taught them in and outside of football. The speakers included Ottawa Gee-Gees' head football coach Jamie Barresi, Sun Youth Hornets Alumni and CFL All-Star Marwan Hage and finally Sun Youth Hornets Alumni and Midget Head Football Coach, Dimitrios Manolopoulos.
De La Perralle co-founded Sun Youth with Sid Stevens in 1954 and the organization originally started as a handwritten local newspaper which profits they would use to purchase sports equipment and to rent a gymnasium for sports and recreation activities. Today Sun Youth is one of the best-known charities in Montreal, servicing the community in several ways including a football program for kids ages 7 to 17. Through the sports programs at Sun Youth with Earl De La Perralle as its Executive Director, the lives of thousands of young Montrealers have been positively affected, the organization focusing on the development of personal responsibility, education and believing that every kid has a right to play the sports they love.
After this vibrant tribute, the award ceremony unfolded and athletes were presented their awards. Every year, the QMFL selects All-Stars as well as MVP's from both offense and defense and gives them an invitation to try out for the QMFL All-Star team. Among the 11 teams present, the Sun Youth Hornets received many honours including MVP Defense Olivier Cheremond, All-Star Defensive Back Mendell Joseph, All-Star Offensive Line Dion Thompson and All-Star Placekicker Tristan Gilbert-Thibault.
This event took place a week after the Quebec Bantam Football League Annual Banquet, where many Hornets players were also honoured with All-Star and MVP awards. The great influence "Coach Earl" had on the younger generation could also be felt there with the Bantam team coaches named "Coaching Staff of the Year", which made De La Perralle, also attending the event, very proud.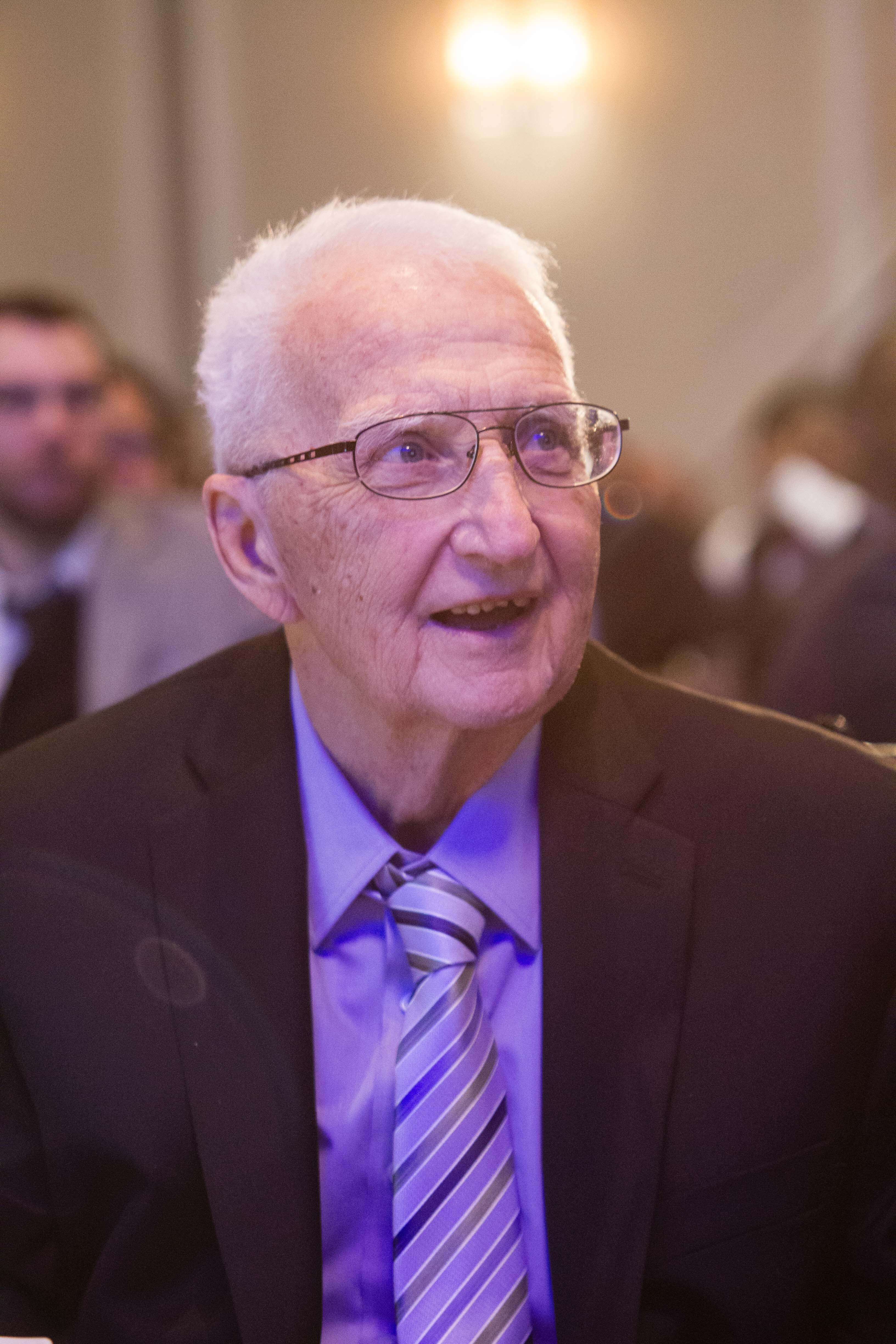 Earl De La Perralle listening to the guest speakers relate stories about their involvement with him and the positive influence he had on them.