This year, Sun Youth hosted three camps; a basketball camp, a day camp and a sleep away camp.
Summer is officially over which means that Sun Youth's camps have once again successfully helped kids stay active in a safe environment. This year, Sun Youth hosted three camps; a basketball camp, a day camp and a sleep away camp, allowing for hundreds of children to benefit from the facilities and programs Sun Youth has to offer.
Sun Youth operates an outdoor and leisure center in Rivière-Rouge in the Laurentians for kids aged 5-14. Mothers of young children and senior citizens also were able to enjoy the peacefulness that only Mother Nature can bring. Sun Youth is extremely thankful for the support it received from volunteers, without all their tireless efforts, camp would not have been possible.
The basketball and day camp campers were once again supported with a full meal plan.  Breakfast, a daily hot lunch, and snacks throughout the day provided them with a healthy nutrition which ensured enough energy to last the whole summer full of activities. The basketball camp was a great opportunity for current and potential Sun Youth Hornets basketball players to improve their skills over the summer to better their chances of making the AAA teams in the fall. The young athletes were also lucky enough to get a lesson from two professional boxers as Ayaz Hussain and his brother Mian gave an introduction to boxing session.
The kids who participated in the day camp went on field trips including visiting amusement parks, local museums, and beaches, in addition to a regular regimen of sporting activities, swimming, arts & crafts, dancing, gardening and regular walks in the park and summer picnics. The day camp's teen lounge underwent a transformation this summer thanks to the great people from MU who painted an indoor mural with the day camp children over several weeks this past summer. As a non-profit, Sun Youth is focused on ensuring that kids from lower-income families will not be looked over and have the opportunity to enjoy their summers.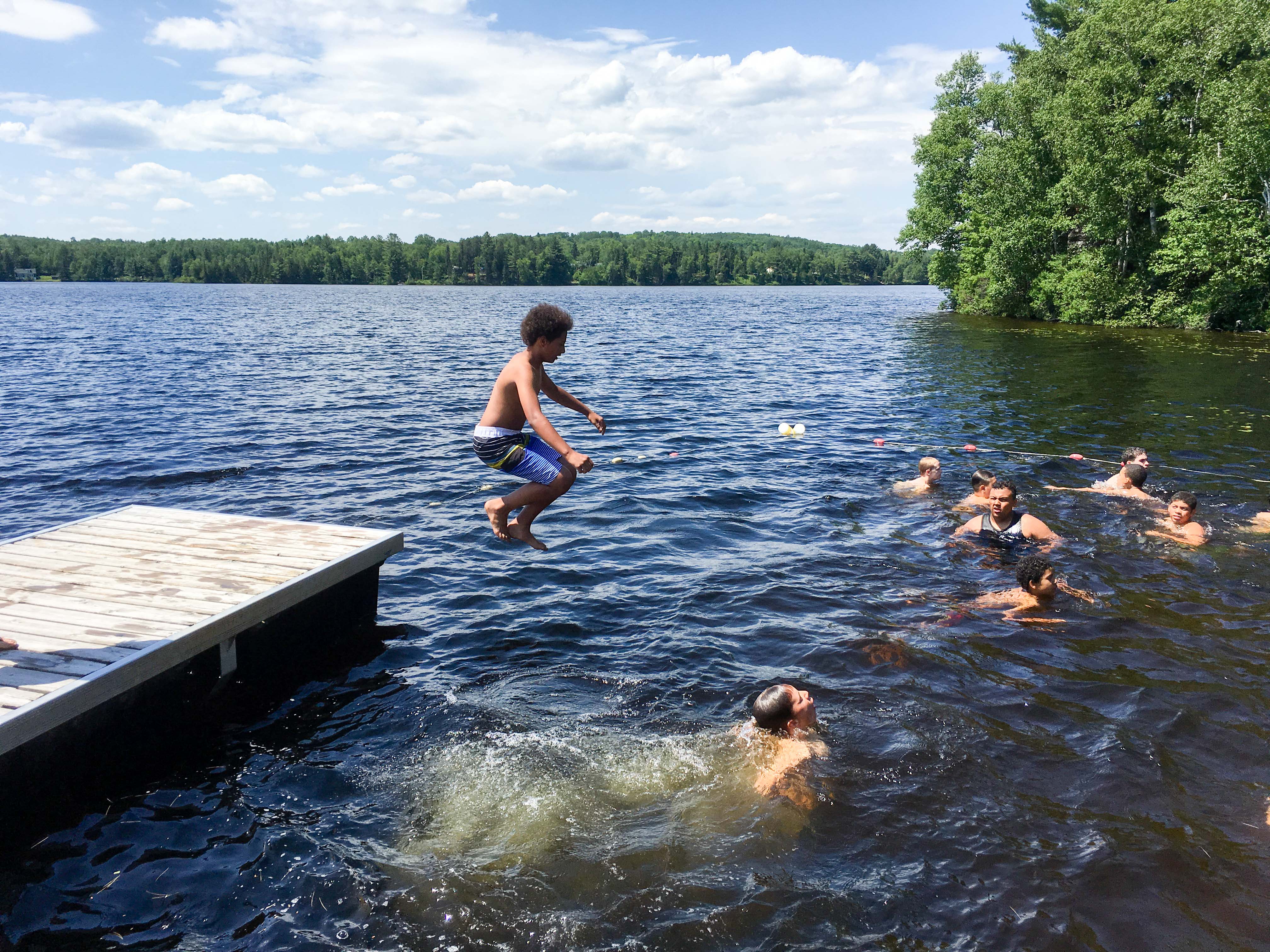 Kids swimming at the sleep away camp in Rivière-Rouge.