At the start of the season, the Quebec Midget Football League (QMFL) had decided to dedicate the season to the late Earl De La Perralle who passed away on June 19th of this year. Earl co-founded Sun Youth as well as being a founding member of the QMFL. Throughout his life Earl was a pillar of the football community in Quebec.
There were high expectations for the Hornets Midget team early on but nobody imagined that they would go undefeated, (13-0) and win both of their bowl games so handedly. This year's team was clearly a cut above the competition, outscoring their opponents by a score of 360-46, over the regular season. The first bowl game was the Doug Britton Bowl, a 24-0 shutout against the cross town rivals the North Shore Mustangs. The second was the BIG X Inter-Provincial Bowl, 31-7 tough game against the West-Ottawa Knights.
Although the game against the Knights wasn't very close, it didn't lack any excitement. They were clearly the best team the Hornets had played all season. A notable moment was when the Knights scored first, making it the first time the Hornets were down all year. Although the Hornets gave up the lead for the first time that season, their defence had arguably its best game racking up 6 interceptions, one of them was returned for a touchdown (TD) by linebacker (LB) Mohamed Riane Chelghoufi. On the very next drive the Hornets scored on a 59 yard passing TD from quarterback (QB) Eloa Latendresse-Regimbald to wide-receiver (WR) Marc-Antoine Deslauriers, equalizing the game. After the first score the Hornets never took their foot off the gas pedal, they scored 31 unanswered points and really didn't give the Knights any room breath on defense.
For the Hornets going undefeated the same year the season was dedicated to Sun Youth's co-founder Earl De La Perralle meant everything. The future looks bright for many of the Hornets players as they sure to be high recruited by colleges and universities. Sun Youth has a long football tradition going back to the earliest days of the organization. Through the years, many former Hornets football and basketball players have made the jump to the college, university and even professional level.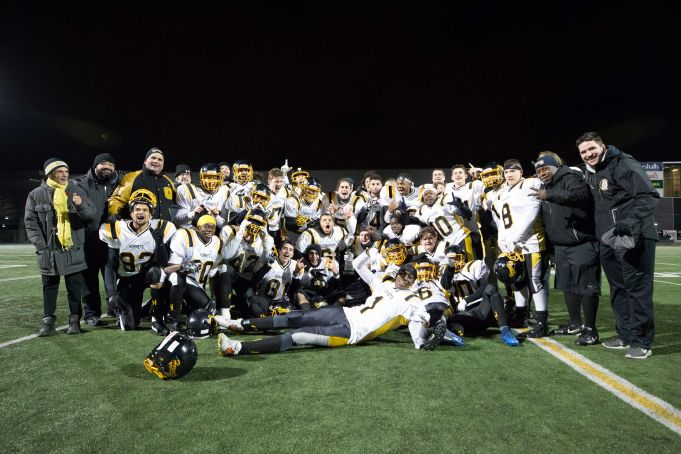 2018 Midget Hornets after winning the Inter-Provincial Bowl.