Help us make a difference by participating to our crowdfunding campaign!
Sun Youth is launching a crowdfunding campaign centered on providing their young Hornets football players with the ability to experience a full offseason program of track, resistance training and academic preparation in the lead-up to the 2018 season. The set goal of the program is $2500 dollars, which will go towards facilities access, spring practice and better equipment and tools that will allow players to learn the discipline of year-round training as they apply lessons from football in the pursuit of higher education.
Dimitrios Manolopoulos, Head Coach of the Sun Youth Hornets Midget Football Team, is excited at the prospect of this broad-based community initiative: "Everyone who's coached here and/or played here understands the benefits that this program provides the community.It takes young players and gives them a challenge to live up to, while also teaching them lessons that carry through their educational and professional careers. The opportunity to see our players mature and go on to bigger and better things makes volunteering here a rewarding experience, and we hope to see donors to this campaign experience the same satisfaction throughout the year."
Sid Stevens, Executive Vice-President and a Co-Founder of Sun Youth, is also excited to see this new initiative take hold. "With this new fundraising channel, we hope to give our players an added boost that allows them to stay focused and disciplined even when the football season may not be in full swing!". Mr. Stevens is also conscious of the importance the football program has held to fellow Sun Youth Co-Founder Earl De La Perralle, longtime administrator of Sun Youth's sports programs and Head Coach of Sun Youth's Midget Football teams. "Earl was always driven by a desire to see kids achieve more in life because of the lessons they learned through football, whether that's in attending university, finding a meaningful career or otherwise. If this program is able to support our player's activities throughout the year, I believe he'll only be more proud of what they can accomplish and grow to become."
The legacy of this program has only continued to grow, with recent notable former Hornets including Régis Cibasu and Arnold Mbembe making headlines. Régis Cibasu recently participated in the 2018 CFL Combine and the NCAA's East-West Shrine Game in preparation for both the CFL and NFL Drafts. Cibasu pulled off a hat-trick of notable achievements in 2014, winning the RSEQ's Rookie of the Year award along with being the Vanier Cup's Most Valuable Player as a member of the championship-winning Université de Montréal Carabins. Mbembe is a more recent Sun Youth graduate who was a Defensive End and RSEQ CEGEP Division 1 All Star for Vanier College in the 2017 season. The 6'6", 235-pound titan recently signed his letter of intent to become a scholarship player for the University of Massachusetts in the fall. These are only two of the more notable recent graduates of Sun Youth's Football Program, who are among hundreds that have gone on to play an attain an education at various higher levels over the decades, including in U Sports schools across Canada, the NCAA in the United States and in the CFL and NFL at the professional level. There are hundreds more who, while not attaining such high levels of achievement in football, have still gone on to more successful professional and academic achievements because of the lessons learned from this program. As for the Sun Youth Football coaching staff they were named Personality of the Week by La Presse in November 2017, a testament to their outstanding commitment towards the kids.
Please view Sun Youth's video on the crowdfunding campaign on YouTube or visit our GoFundMe page to learn more about this initiative.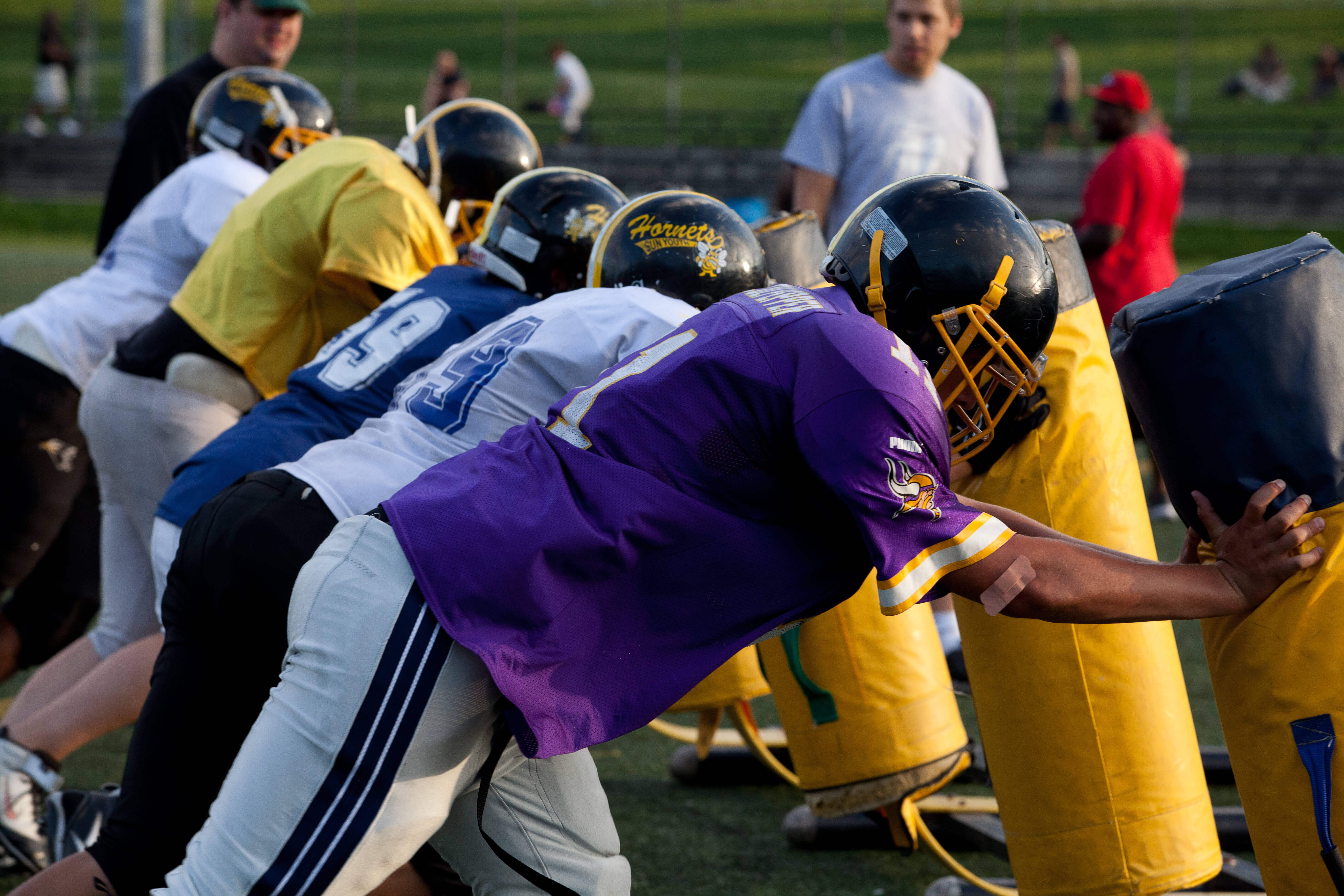 Through the Sun Youth Football program, the lives of thousands of young Montrealers have been positively affected.