Our Holiday campaign is launched! As we approach this festive season, we all know someone who is experiencing emotional distress or economic hardship. Help us make the upcoming Holiday season brighter for them. 
We wish to thank our donors without whom we wouldn't be able to help out as many families as we do each year with food and new toys. Their support and generosity allow us to always do more for families in need. More than ever we need your support to carry out our mission of supporting thousands of families for the Holidays. We encourage individuals and companies to give to Sun Youth to provide these families with a brighter Holiday season. 
Read the very touching article about Lisa-Melanie.  You will learn how we helped her and her family as a child and how important it is for her to help others today. Thanks to your donations this year, we will be able to help thousands of families like hers.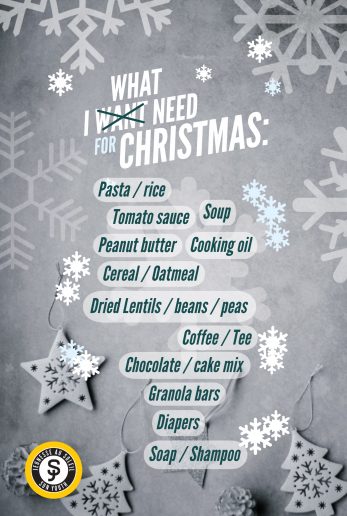 During this pandemic we are still collecting donations on our website but now offer a new crowdfunding platform through which companies can challenge each other to see who will be the most generous. Visit this page to take part in the Sun Youth Challenge: Sun Youth Challenge (imakeanonlinedonation.org). At the same time we are still encouraging companies to organize regular non-perishable food and new toy drives. To this effect it will be our pleasure to provide you with campaign posters and schedule a pickup date convenient for you. You can set a pick up date by calling Elsa or Jesse at 514-842-6822 or by sending an email to pickup@sunyouthorg.com. For donations made online, tax receipts will be sent automatically. 
Good news, our annual Christmas tree sale at the White House on the corner of Mount Royal and Parc will be taking place from 9AM to 9PM from November 26th to December 23rd! We also have developed a partnership with Chez Michel, a major tree vendor at Marche Jean Talon. They will be donating 5$ of every tree they sell on Saturday, November 27th. Furthermore, Chez Michel has an online tree reservation and home delivery system. For anyone who orders a tree between November 21st and November 28th and who writes "SUN YOUTH" in the comments of their online order, Chez Michel will donate 5$ to our Organization. Here is the link for Chez Michel's website: Sapins Chez Michel – LIVRAISON SAPINS MONTREAL – Marché Jean-Talon – Marché de sapins Montréal SERVICE DE LIVRAISON. All proceeds will go to our Sports Outreach Programs. 
We thank you in advance for your generosity and wish you and your loved ones the best for the Holiday season and beyond.