This summer was certainly one for the books for the Sun Youth Football program. Many of our players took to the field on some of the most elite stages in Canada. Our Hornets participated in various all-star events, showed up to play and made The Nest proud.
Silver and Gold for Team Quebec in Canada Cup
Fresh off of a municipal and provincial championship, quarterback Eloa Latendresse-Regimbald and linebacker Liam Masley represented the Hornets for Team Quebec in the Canada Cup. While the team claimed the silver medal they earned major respect after a four overtime victory over Alberta in the semi finals. It was no surprise that Eloa brought home top honors as tournament MVP (offense) after the impressive performance. To top it off, the quarterback's talents and hard work have earned him a spot on Team Canada for the 2020 IFAF World Junior Championship! Big congratulations, Eloa!
Keep an eye on these two players as they take their talents to the Cegep level for the 2019-20 season. Eloa will be playing for Vanier and Liam for André-Grasset.
The tournament also featured former Hornet Anthony Di Francesco who made us proud by coaching the U16 team to a 28-7 victory over Ontario to bring home the Gold medal.
Meanwhile in Quebec
At the U17 level, four of our players represented The Nest for the QBFL elites in the Nike Team XL bowl. Oscar Escobar (WR), Luca Lapaix Lorenzo (RB), David Stefu (DL) and Andrew Lainis (LB) put forward a valiant effort to secure the bronze medal in a decisive 31-13 victory over EMS. Watch out for these guys next year as they will help defend Sun Youth's title as city champs! Also represented was Bantam Coach and former hornet Frank Kociper who coached the QBFL all-stars.
At the U15 level, Hornets Adam Bateman (DB), Vince Elie (RB), Ethan Hall (RB), Ariane Neveu (DL) and Mohamed Traore (WR) took the field to capture the Gold medal for the MRFL Monstars for the second year in a row. Accompanied by their coaches Jesse Blizzard, Alex Vidal, Duane Collins, Rubens Ernest,Tony Mohammed, Robin Hunter, Bubba hunter, Nicky Sklivas and Sophie Roy, the Monstars managed to edge out the LLL Predators in a 48-38 victory.
Join the tradition
Congratulations to all players and coaches who made us proud this summer! If you have children between 7-17 who want to play football at a competitive level and be part of a winning culture, join our family!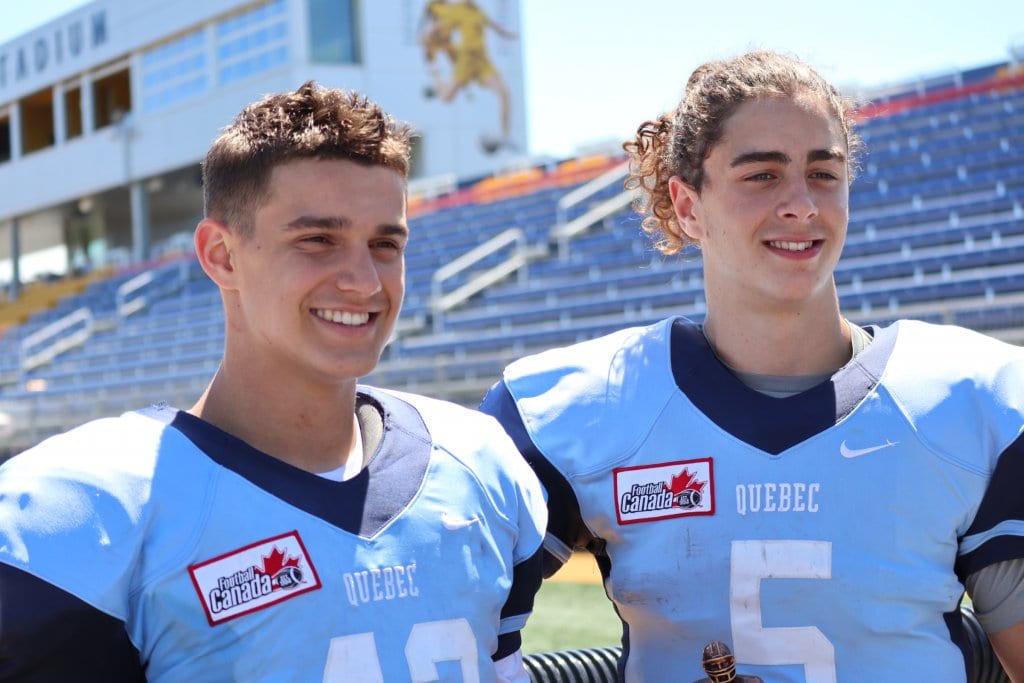 Hornets Liam Masley (linebacker) and Eloa Latendresse-Regimbald (quarterback)