Sun Youth wishes to warmly thank Hyundai Canada for its recent contribution to the organization's tutoring program. This generous donation of $50,000 will be extremely useful in helping Sun Youth maintain its mission with the youth. Since its creation in 1954, Sun Youth has been active in the community providing youth sports programs that give access to children regardless of their family's financial situation. Almost every child who is involved with Sun Youth plays sports. The organization currently offers football, basketball and a hockey development program.
At Sun Youth, academic success is as important as athletic success. Children who want to be part of the organization's sports teams must do well in school. Every day after school, young athletes are invited to come to do their homework at Sun Youth's facilities, and volunteer tutors offer their support to those who need it. Sun Youth is honoured to have Hyundai Canada's support in its commitment to help young athletes pursue their studies. This contribution is especially important and helpful this year: in the context of COVID-19, student motivation is down, absenteeism is up, and the risks of dropping out are higher than ever. The organization will ensure that this donation goes to address these negative effects.
The generous donation from Hyundai Canada will allow Sun Youth to purchase computers and other educational materials used in the organization's mentoring program. The entire staff, volunteers, management and board of directors of Sun Youth would like to express their sincere gratitude. During this crisis, the combined efforts of the organization and Hyundai Canada will make the community stronger and provide invaluable support to numerous student-athletes in their studies.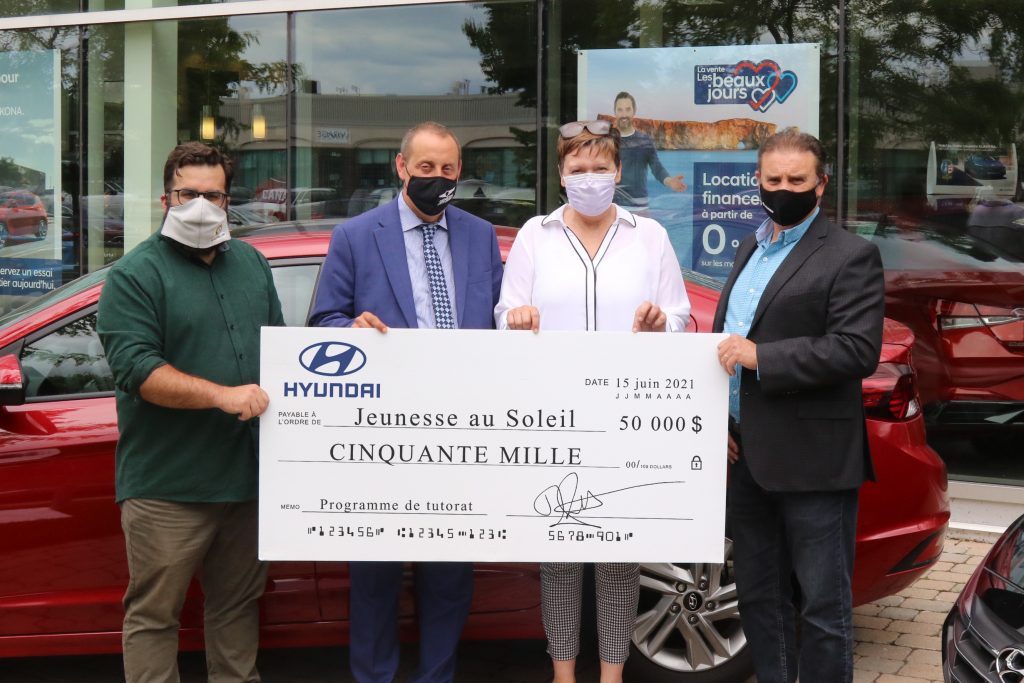 From left to right: Anthony De Francesco, Director of Community Services for Sun Youth, Mario Totaro, Vice-President of Saint-Laurent Hyundai, Johanne Saltarelli, Executive Director of Sun Youth and Peter Codispoti, Manager, Eastern Zone for Hyundai Canada.