The Sun Youth Hornets summer basketball program is well under way with participations in several tournaments such as the Elite Basketball Skills Academy Crossover Challenge and the Saint-Laurent Express Tournament (both of which our U12 won). Summer basketball also means participating in tournaments beyond Quebec's borders such as the Zero Gravity Basketball Tournament in Boston and the Adidas Boys Jr. Gauntlet in Albany. Ever wonder how some of these summer trips were organized in the past? Read on, you won't believe it!
An irresistible offer
In March 1989, the Sun Youth Juvenile Boys Basketball Team won the FBBQ provincial Championship in Sorel. The team was coached by Wayne Kidd, Leslie Hughes and Mike Clarke. After reaching that important goal, they planned on taking a sabbatical year from coaching. Well that was not going to happen!
Two weeks after the end of the season, Sun Youth cofounder Earl De La Perralle invited Leslie Hughes to a 6 p.m. meeting in his office. Earl had a proposal he knew Mr. Hughes could not resist: he had received a request from Coach Boo Williams, a famous AAU coach in the Virginia Beach area. "He asked if I could put together a team of girls and train them in 6 weeks to play a single game at the Hampton Coliseum, in Virginia," Hughes recalls. The plan was to play a preliminary exhibition game followed by the Virginia AAU All Stars playing the Russian Men's Junior National Team. Sun Youth didn't have a summer elite basketball program for girls at that time, so it was a first.
More than a simple game
On the long weekend of May 1989, the team and coaching staff embarked in two white Chevy vans and fourteen hours later drove underground into the stadium indoor parking lot. Even though they had been prepared by the coaches, some of the players were so astonished that they thought it was a joke. They had never been in a basketball stadium that held 8,000 plus spectators, let alone play in one! As Coach Williams gave them a tour of the facility, he also gave them the program for the event. Hughes could not believe it: "To my amazement the title page highlighted that the CANADIAN JUNIOR WOMEN NATIONAL TEAM would be playing the VIRGINIA AAU ALL STARS in advance of the USA – RUSSIA game!'' The players did not have Canada on their shirts, but they did have the Sun Youth name.
The next evening, the game was played. With three minutes to play, there were thousands of Virginia supporters in the stands. "The deficit was thirteen points in the US favour, but this game changed everything for girls' basketball in Canada," proudly says Hughes.
On their return, Leslie Hughes immediately met with Earl to report on the amazing experience. He also had a question in mind for him regarding being identified as the Junior National Team. Earl casually responded:"Did I forget to mention that? I just thought that it would be a good opportunity. Let's go for coffee."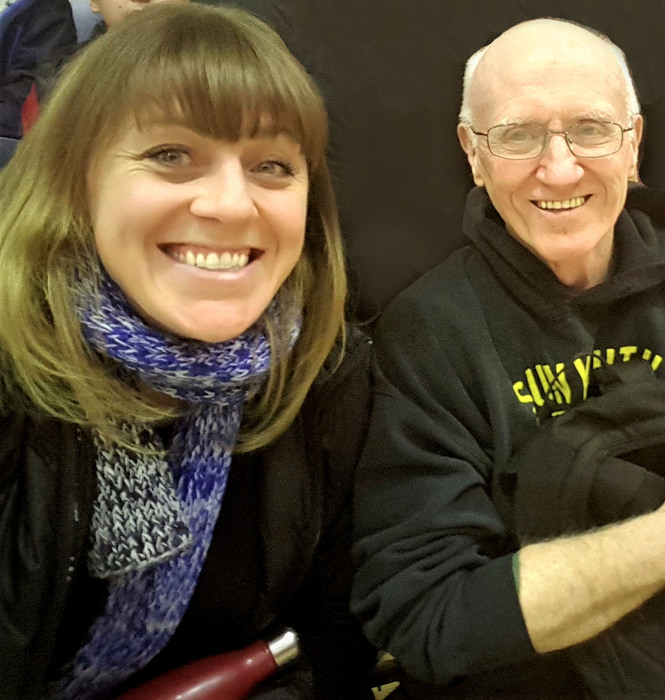 Olympian and Sun Youth alumna Lizanne Murphy and coach Leslie Hughes.