Established in 1984, the Sun Youth Bike Patrol is celebrating its 35th anniversary this summer. This year's patrol is composed of 23 patrollers, including 4 teens on patrol and works in collaboration with 9 Montreal Police (SPVM) neighbourhood stations across the Montreal Island. The patrollers represent a diverse group of individuals who have in common the desire to work hard at bettering their community. All are trained in first aid and other public safety skills. Abdel Rouchdi is their new coordinator and has a real passion for his job. "I wanted to get involved because I liked the idea of managing staff," says the 31 year-old who studied political science before joining Sun Youth in 2018. "For me, it's also about getting in touch with the community and serving this community." The first mandate of the Bike Patrol is to be the eyes and the ears of the Montreal Police. Abdel considers that by their only presence, the patrollers increase the sense of security of seniors and children in Montreal.
Seniors are at the heart of the Bike Patrol's activities. "I think that along with children, seniors are our number one fans! Often when they see us with our bikes and our walkie-talkies, they take us for police cadets so the first question is: 'Oh, you are cadets?' It immediately sparks discussions. We are always very well received!" Abdel finds that working with seniors is a win-win situation for both parties. "An exchange with a senior that lasts only 5 minutes can change a patroller's life because seniors have experience in a lot of things that younger people don't. It's all about sharing knowledge." L0ikewise, Abdel finds that the relationship is also beneficial for seniors: "It can also bring them out of their isolation. Oftentimes, their exchanges with patrollers are the only these seniors will have in the day so it works both ways."
The relationship between the Bike Patrol and seniors is not only about engaging in conversations, though it is an important part of the patrollers' mandate. "When we start the patrol, the first week is dedicated to touring schools and retirement homes and that's how we get known to them." Patrollers work closely with the residents of many seniors residences. "So far, we have been taking part in activities like Bingo, dance sessions and even singing sessions. We are also present during the lunches". The presence of bike patrollers is so much appreciated that they are often invited by seniors to come share a meal at lunch time.
The Bike Patrol also collaborates with the SPVM for special operations targeting seniors. "We take part in a campaign called Crossing without playing with your life. After children, seniors are the most frequent victims of accidents involving pedestrians and cars. "So we give them some tips to avoid being hit." The Bike Patrol also pays special attention to heat waves and helping seniors cope with them. "We take part in a Station 44 initiative called the Door-to-Door Project. A team composed of two police officers, two cadets and two patrollers go street by street knocking on the doors of seniors to give them useful information." Beyond providing tips on how to cope with heat waves (drink plenty of water, stay in the shade and take refuge in cooled areas) they inform seniors on activities offered in their neighbourhood that might interest them. Once again, one of the main goals is to get them out of isolation.
If you see Sun Youth patrollers this summer, go and talk to them. It will most certainly be a meaningful conversation! To get a glimpse of patrollers in action, visit Sun Youth's Facebook page and look for the Bike Patrol picture album (www.facebook.com/SunYouthOrg/).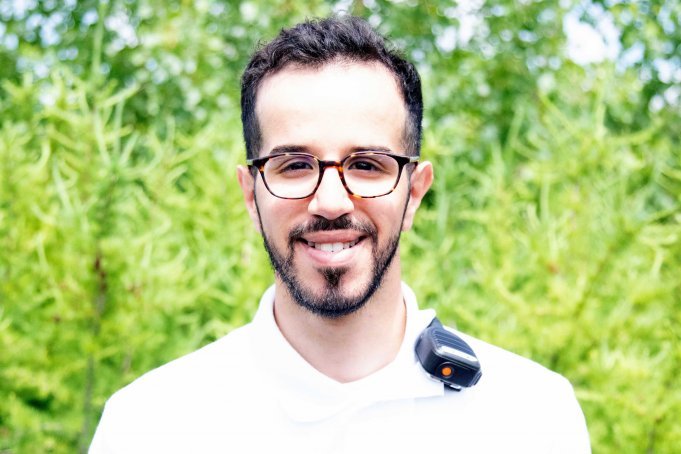 Sun Youth Bike Patrol Coordinator Abdel Rouchdi. Photo: Nicolas Carpentier.

Video ID not provided: Please check your shortcode.