On October 15th, the Intégration Jeunesse du Québec organization (IJQ) held its annual recognition event where the employers were honoured for their involvement. Throughout this reward ceremony hosted by TV personality Denis Talbot and spokesperson for IJQ, Sun Youth received the prize for the best training, highlighting the organization's contribution to the Valorisation Jeunesse – Place à la relève project.
Through Valorisation Jeunesse young dynamic people aged 16 to 18, especially those that are visible minorities, have the opportunity to gain rewarding and meaningful professional work experiences in order to be better prepared for the realities of the job market. So far, more than 150 employers have been part in this project, including Sun Youth. Indeed, the organization first joined the project in 2009 and since then allowed more than thirty high school and CEGEP students from different socio-cultural backgrounds to obtain a first work experience while encouraging them to stay in school. Each summer, Sun Youth recruits students from this program and raises awareness about the reality of community work while allowing them to connect with people from different backgrounds. Moreover, many of these participants have subsequently joined the ranks of the organization where they now work in a rewarding environment.
One of these participants is Louiza Guira, a student at the Saint-Hyacinthe professional theater school. "I first joined Sun Youth in the summer of 2014. I was very excited, as it was my first job", she explains. Possessing talents that the organization was looking for, Louiza had several contracts later in the communications department. "Here, I feel valued. I am in a friendly environment where my work is recognized", she concludes.
Sun Youth is very proud to receive the prize for the best training and be able to contribute to the professional training of post-secondary students all year round to ensure a promising future.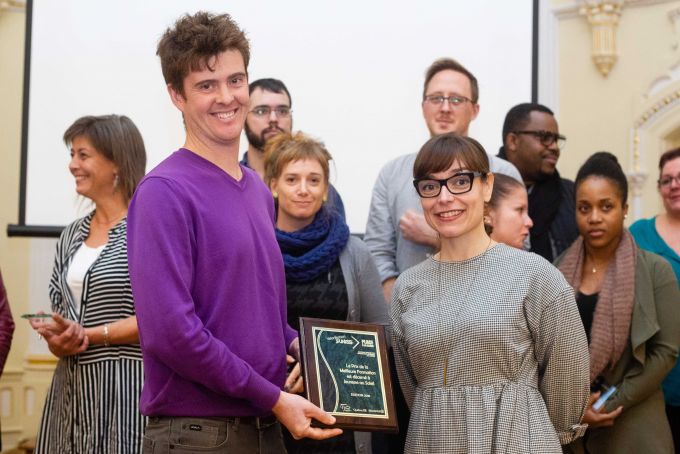 Eric Kingsley from Sun Youth with Karine Bourdeau from the Ministry of Immigration, Diversity and Inclusion, receiving the Best Training Award at the 2018 Intégration Jeunesse du Québec recognition event.