For the eighth year in a row, Westmount's Mountainside United Church presented "En Harmonie 4 Kids", a concert to raise funds for Sun Youth's children's programs. The show was held at Mountainside United on Saturday, April 6th and brought together talented performers, adults and children, united to help kids in need. Throughout the evening, the Mountainside United Church Choir, the English Montreal School Board Junior Chorale, the Montreal Chinese Children's Choir, the Con Brio Ensemble of FACE School, the McGill Conservatory Children's Choir, le Petit Chœur de Rosemère and le Chœur Anima Musica offered a varied program of choral and orchestral arrangements to a captive audience.
The concert was a great success, generating $8,000 for Sun Youth! These funds will be used by the organization to assist families referred through youth centers, children's hospitals and will also help fund Sun Youth's Bullying Prevention and Conflict Resolution program in schools.
Sun Youth would like to thank Mountainside United Church for organizing this benefit concert from an eighth consecutive year. Since 2012, "En Harmonie 4 Kids" brought close to $53,000 for the organization! Special thanks to Mountainside United Director of Music Margaret De Castro for being at the heart of "En Harmonie 4 Kids" since the beginning with her tireless work year after year. Sun Youth would like to thank everyone who attended the concert, all the volunteers who gave their time to ensure the smooth running of the event and, most of all, the young and young at heart who performed magnificently for the enjoyment of the crowd!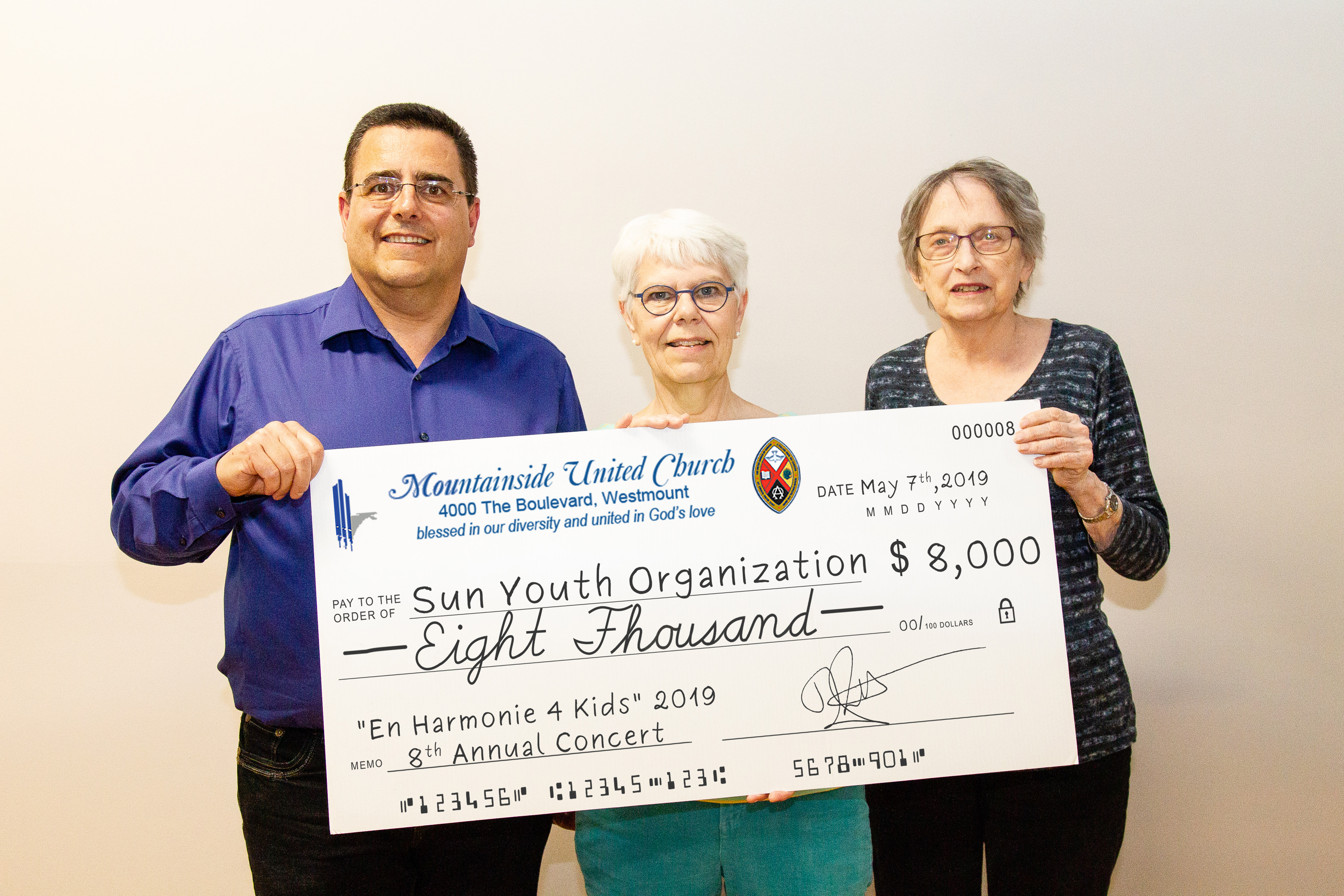 Sun Youth Director of Finance Daniel Rousseau (left) accepting the profits from the 8th Edition of the "En Harmonie 4 Kids" benefit concert from the hands of Chair of Finance Jill Harrison (center) and Chair of Outreach Frances Sault, both from Mountainside United Church.