The Shorinjiryu Kentokukan Karatedo is both a school and martial art style. It was founded by Ontario-born Shihan ("master instructor") Wayne Donivan, who spent 26 years developing his style in Japan and who established his first dojo at Dawson College in 1994, where he taught numerous years. The school now has many more training centers across Canada, in the United States and Japan. This new style has made its mark nationally and internationally through participation in competitions and seminars.
For a 7th year in a row now, the Kentokukan School organized the Kentokukan Fall Classic Karatedo Tournament to raise funds for Sun Youth. This year, the event took place on November 8, 2019, at the Lauren Hill Academy Junior Campus, in Ville Saint-
People of all ages competed in their respective categories, and had a lot of fun. On November 20, Shihan Mark Filippelli presented Sun Youth's Conflict Resolution in Schools Program with a cheque for $1,500. Ann St. Arnaud, Communications Director, Jonathan Caisse, Crime Prevention Coordinator, and Sid Stevens, Executive Vice-President of Sun Youth, were very grateful for the generous donation.
Significant support for our mentoring and bullying prevention programs
Thanks to donations, for 18 years now, Sun Youth's Social Mentoringand Prevention against Intimidation / Conflict resolution in Schools Programs provide public schools with additional human resources. Our social mentors make a difference in Montreal's public schools: they work hand-in-hand with the school staff and share their expertise in order to foster positive relationships between students. Interventions include group workshops on leadership, peer mediation, conflict resolution, socialization, and discussion groups about issues today's teens deal with. Individual interventions are mainly centered on homework assistance and mediation. In the short term, each student benefits from our program, as it helps counter bullying and intimidation, strengthens social ties and develops team spirit.
Besides the money donation, all Kentokukan dojos organized a food drive contest. This year's winning dojo, the Ken Sei Kai Academy of Martial Arts from Lancaster, Ontario, gave 1,776 lb of food. In all, over 2,600 lb of non-perishable food items will be distributed as part of the Sun Youth Christmas basket program.
This year's Fall Classic donation and food drive would not have been possible without the wonderful participation of the Shorinjiryu family. Thanks to their help, many children will have access to new resources in their schools and less fortunate families can enjoy food and toys for Christmas.
If you are interested in knowing more about the Shorinjiryu Kentokukan Karatedo, visit www.kentokukan.com.
A little reminder: the holiday season is fast approaching and we will need a lot of help to make sure that the most disadvantaged people can spend a nice Christmas. We invite you to read this article to find out how you can help us.We hope we can count on your cooperation and generosity this year. Thank you!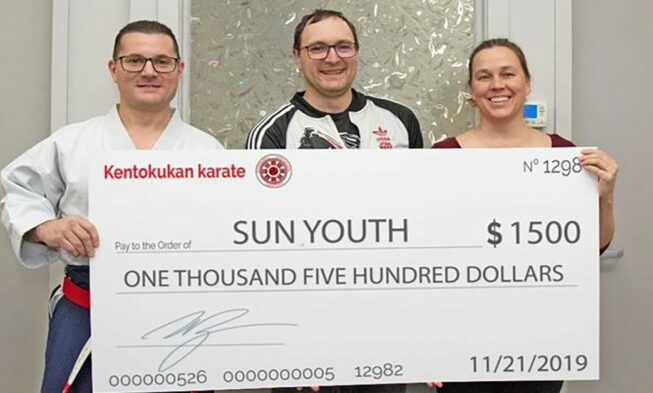 Left to right : Shihan Mark Filippelli, Jonathan Caisse and Ann St-Arnaud.