Since the 1970's, Sun Youth has been intervening with people affected by a disaster or an emergency by offering them basic and personalized assistance, until they return to a normal way of life. In the very particular context of the pandemic, a normal way of life is something that many people lack. Indeed, the health crisis is trying for the general population, imagine what it can be like when you are the victim of a fire. The state of shock is increased tenfold.
Despite COVID-19, Sun Youth's interventions continue, but things are a bit different. "The most difficult thing has been to not get close to people as usual", says Doru Toca, Disaster Relief Coordinator for Sun Youth. This is one of the important aspects of Sun Youth's intervention: human contact. "What people need most, aside from material help, is reassurance", he continues. The pandemic has therefore removed a little proximity to contacts with the victims. "Almost everything is done by phone or email", he concludes. There are still some contacts for the organization to provide material assistance to people, all in compliance with sanitary measures.
During the first intervention, one of the most frequent needs is in terms of transport, where Sun Youth offers taxi coupons so that people can get from the site of the fire to the hotel where they are being relocated. Before COVID-19, Sun Youth would transport people using its own vehicles but had to adapt to the new reality of social distancing. Material assistance also comes in the form of food and refreshments, pharmacy or grocery gift cards, and three-day bus passes or individual tickets. Clothing assistance is also part of the front-line services offered by Sun Youth and is made possible by the generosity of companies such as Groupe Yellow which for a second consecutive year donated over 4,500 pairs of shoes to support the organization's efforts. New clothes donations from businesses are thus encouraged by the organization. In the days following the fire, Sun Youth workers will go to the hotel where the victims are relocated to bring them clothes according to their needs previously expressed.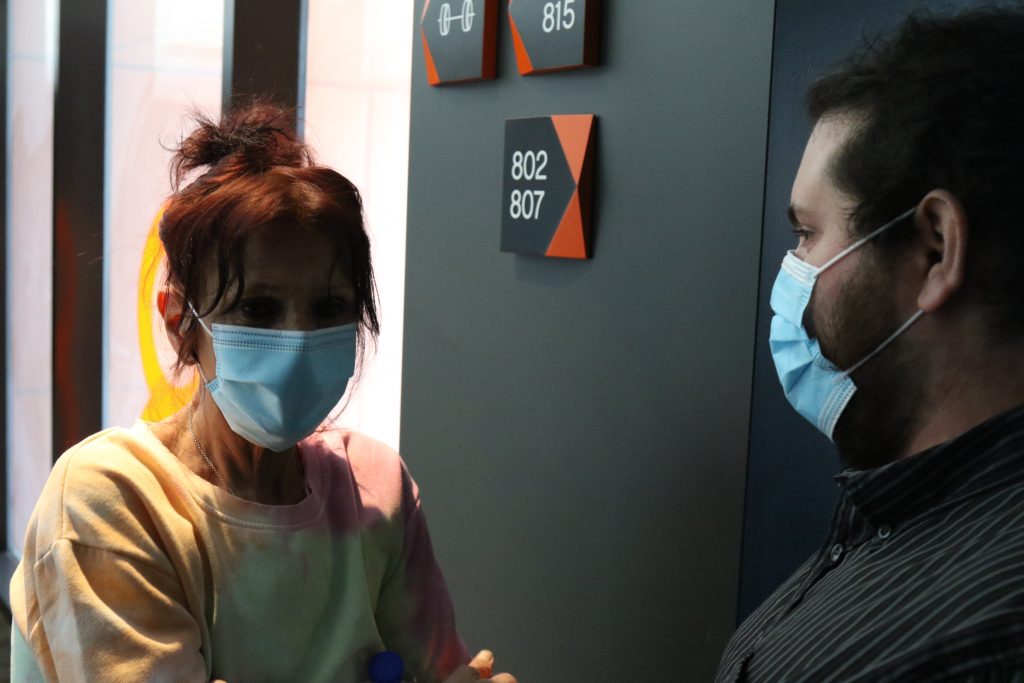 Usually, fire victims have their minds elsewhere and are preoccupied, overwhelmed by events. Some people who don't have insurance mistakenly believe that if the building they live in is owner-insured, so is their personal property. Unfortunately, still many people do not have fire insurance, which makes Sun Youth's support even more essential.
Last April 11th, Sun Youth was called to a fire in a low-cost housing building in the South-West of Montreal at the corner of Galt and Angers streets with many seniors living there, some with reduced mobility. As usual, Sun Youth intervened in collaboration with the Red Cross, Quebec division. Initially, we provided food and water to the victims, in addition to providing emergency medication.
A total of 102 occupants were evacuated. Unfortunately 7 people were injured and one person died. In addition to offering first necessity goods, our intervention allowed us to identify people with additional needs, particularly in terms of clothing. This was essential considering that the tenants were evacuated in a hurry, carrying only what they were wearing when the fire broke out and unable to return to their apartment to retrieve personal effects. In the days that followed, Sun Youth visited the hotel where the victims were relocated to bring them new clothes that best met their needs.
As usual, people were very grateful for the help given to them. Although material assistance is appreciated, many attach great importance to the information given to them about what to do after a fire. Most of the time, a fire victim is a first-time victim, so the process will be new to that person. It helps to have help sorting through this and to rely on the expertise of Sun Youth workers.