On April 29th, the LFA hosted its Grand Finale game for the benefit of Sun Youth's SLAP Hockey program
On April 29th, the Ligue Fédérale des As (LFA) held its Grand Finale for the 2017 season in collaboration with the Brotherhood Hockey Association. The finale featured the Meteors and the Avengers in an exciting game worthy of the NHL playoffs.The Meteors came back from a three-goal deficit in the third period and forced overtime. They finally defeated the Avengers 7-6. This championship game was one of the most exciting in the LFA's history.
Over the years, the LFA and the Hockey Brotherhood Association have supported various programs at Sun Youth. Thanks to their many fundraisers, more than $10,000 have been donated to Sun Youth. This year, a record number of people came out to support the boys and helped raise $8,225 for Sun Youth's SLAP Hockey program.
SLAP Hockey was established in 2005 with three founding organizations; Park-Extension Youth Organization (PEYO), the Quebec Avalanche Hockey Club and Sun Youth Organization. Its mission is to introduce to our national sport children between the ages of 5 and 13 years old. By focusing on the fundamentals of hockey the kids gain a strong foundation to build upon. The players are first taught basic skating skills and eventually progress to concepts concerning teamwork. SLAP Hockey also places a strong emphasis on the importance of education. This year over one hundred children from Parc-Extension and Pierrefonds-Roxboro programs were able to learn and play in a positive environment.
Sun Youth would like to thank the organizers of the event and its many sponsors and donors, as well as all of the volunteers, the players from both teams and the hockey enthusiasts for their support. A special thanks goes out to the LFA for the positive role it plays in the community.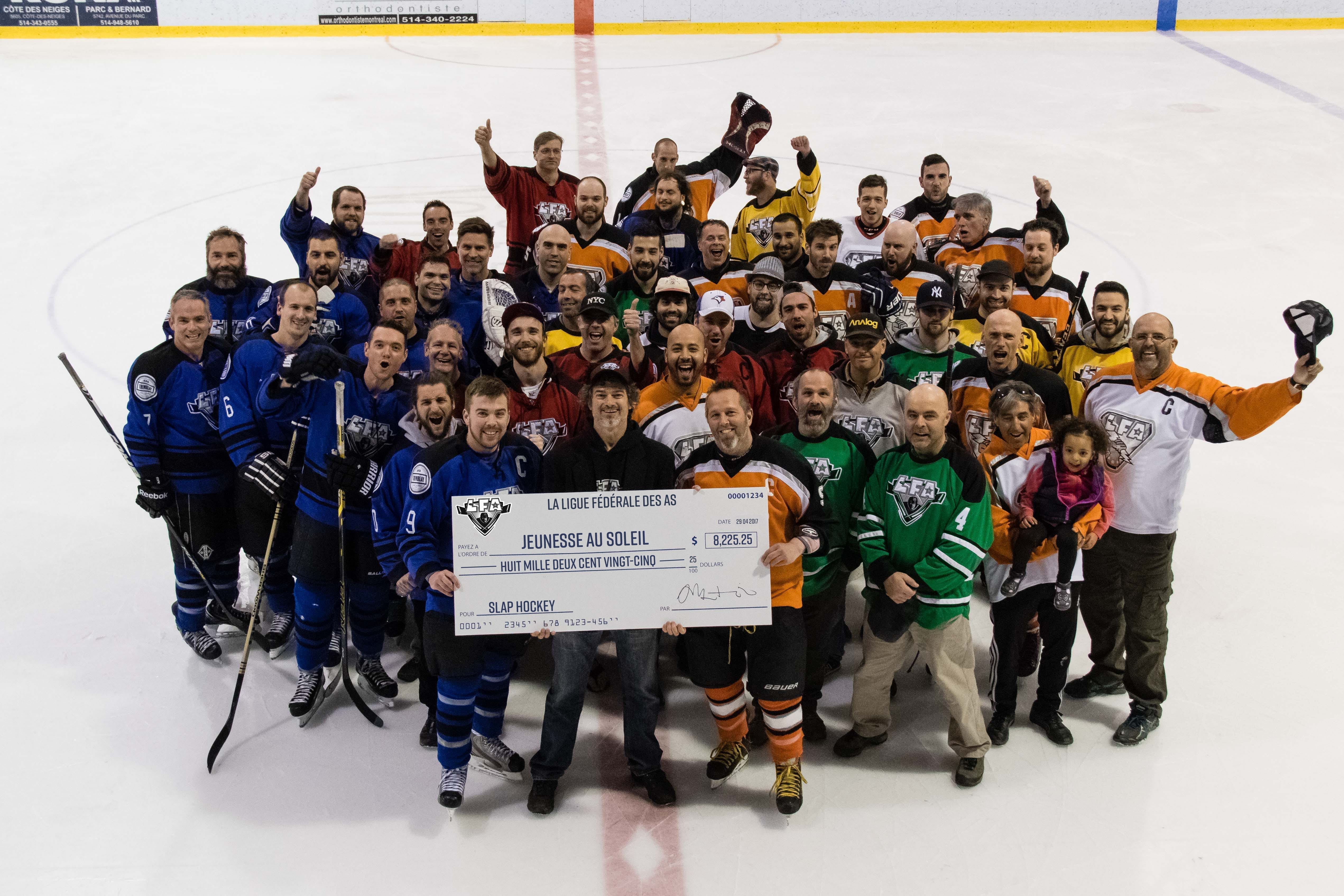 Enormous thanks to the LFA and everyone who came at the Grand Finale for their generous contribution.
Photo: Joseph Munro