On May 19th, more than a hundred people joined forces to fight against taxing and bullying.
Sun Youth organized its annual pasta dinner fundraiser on May 19th to benefit its Bullying Prevention and Conflict Resolution program. During this family-oriented event, more than a hundred people gathered and helped raise more than $ 2,000, which will help a great deal in the fight against bullying and taxing.
The guests enjoyed a delicious pasta meal and had the chance of winning raffle prizes. In addition, many Sun Youth friends, employees and family members answered the call of their Crime Prevention colleagues. Shorinjiryu Kentokukan Karatedo karate school generously offered a series of demonstrations for all to enjoy. Faithful supporter of Sun Youth for the last 10 years, the school finances Sun Youth's Bullying and Conflict Resolution program through its Kentokukan Fall Classic Karate Tournament. The event was also attended by Montreal Police representatives such as Melanie Potvin and Gabriel Couture, community relations officers, and Inspector Pascal Richard.
Bullying among children is something that is unfortunately present in our society. Thankfully, people are increasingly aware of this phenomenon and try to find solutions to stop it from spreading. For 15 years now, Sun Youth's Bullying Prevention and Conflict Resolution program has been making a difference in public schools around Montreal. This program provides schools with social mentors who are working with the school staff in order to foster positive relationships between students, offer guidance and develop extracurricular programs for students.
Sun Youth would like to thank all those who took part in the event, as well as Shorinjiryu Kentokukan Karatedo karate school and SPVM representatives who gave their time to ensure the smooth running of the event. A special thanks to Soares & Fils and Pizza Nikkos, two businesses who sponsored the event.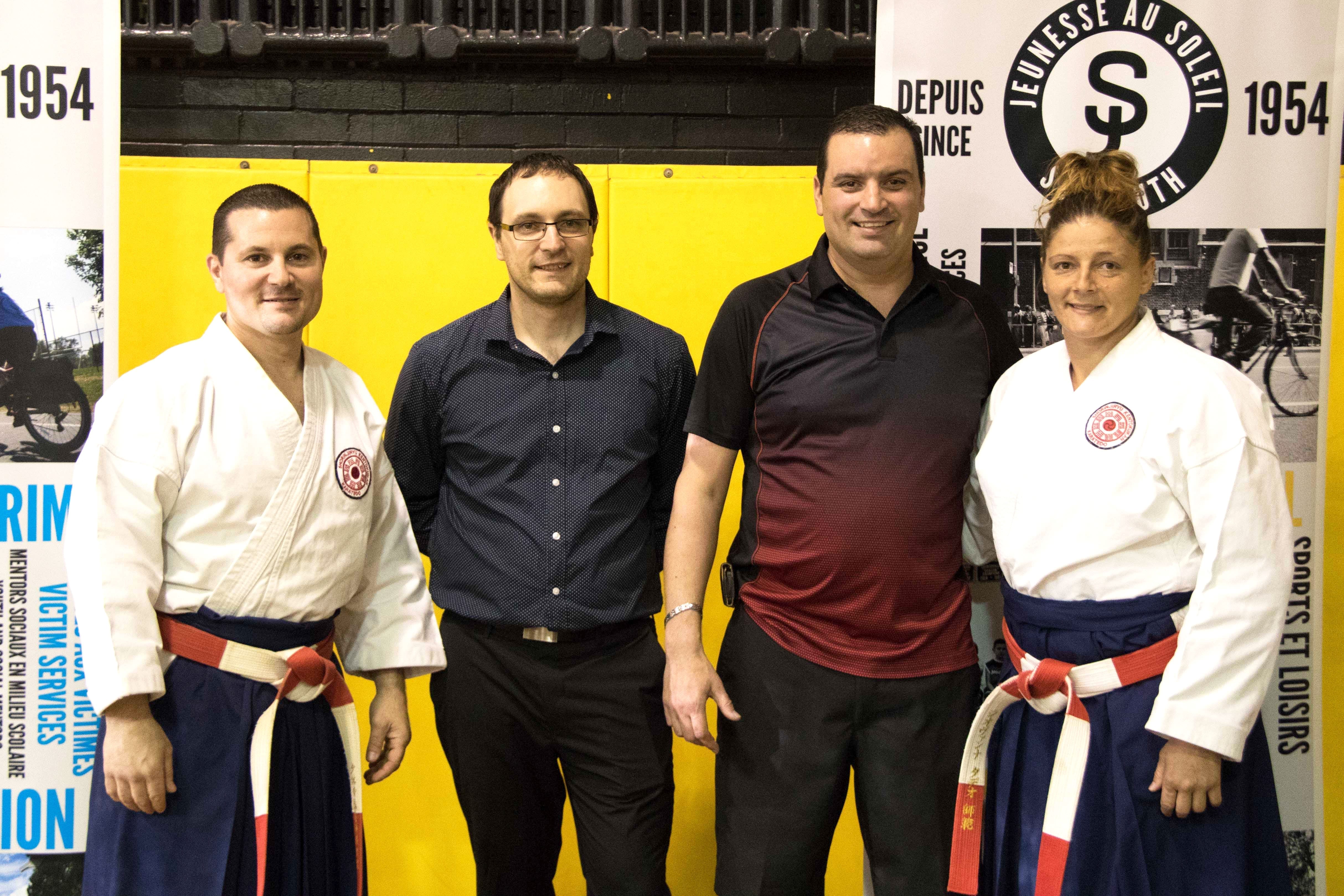 From left to right: Mark Filippelli of Shorinjiryu Kentokukan Karatedo, Jonathan Caisse, Coordinator of Crime Prevention and Victim Services of Sun Youth, Helio Galego, Assistant Executive Vice-President and Director of Crime Prevention of Sun Youth and Giovanna Taddeoof Shorinjiryu Kentokukan Karatedo.
Photo Credit: Caroline Viger-Lazare