FACE OFF!
Every year, the LFA organizes a special event for its summer championship game, having for objective to offer a unique experience to its players while getting money for a charity organization from the community. This year, the game will be held on Sunday, August 25 starting at 5pm, at Notre-Dame College Arena. You will find onsite stands offering souvenirs, cold beer and even hot-dogs and popcorn for your munchies during the game! In addition, you could win one of the many attendance prizes while cheering to music played by a DJ.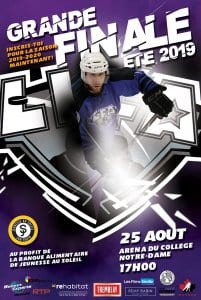 You can reserve your place at info@lfahockey.com and give what you want once at the arena (money or non-perishable food) or make an online donation on the Sun Youth website. People donating $20 and more will be entitled to a tax receipt.
JOIN US!
Make a donation and help the LFA reach its objective of supporting Sun Youth's community programs. All donations will go towards the organization's food bank.
Every gesture counts!
MORE ON THE EVENT
https://sunyouth.org/events/lfa-summer-finals/
Follow us on FB
https://www.facebook.com/SunYouthOrg/
Follow us on Instagram
https://www.instagram.com/jeunesseausoleilsunyouth/
Make a donation
https://www.jedonneenligne.org/jeunesseausoleil-sunyouth/