20 years of generosity have allowed us to raise $1.3 million for our youth programs. Every year, for the last 20 years, Sun Youth alumni, along with their friends and family, volunteers and donors, have come together to raise funds. The 20th annual Sun Youth Mordy Gordon Memorial Golf Tournament and the 7th annual Cyclothon raised more than $120,000! 
Over 165 golfers and cyclists participated in the event held on August 14th at Elmridge Country Club. With their help and the support of our generous sponsors and donors, hundreds of kids who might otherwise not have the chance will have the opportunity to participate in Athletics, as well as our Day Camps and After-school programs.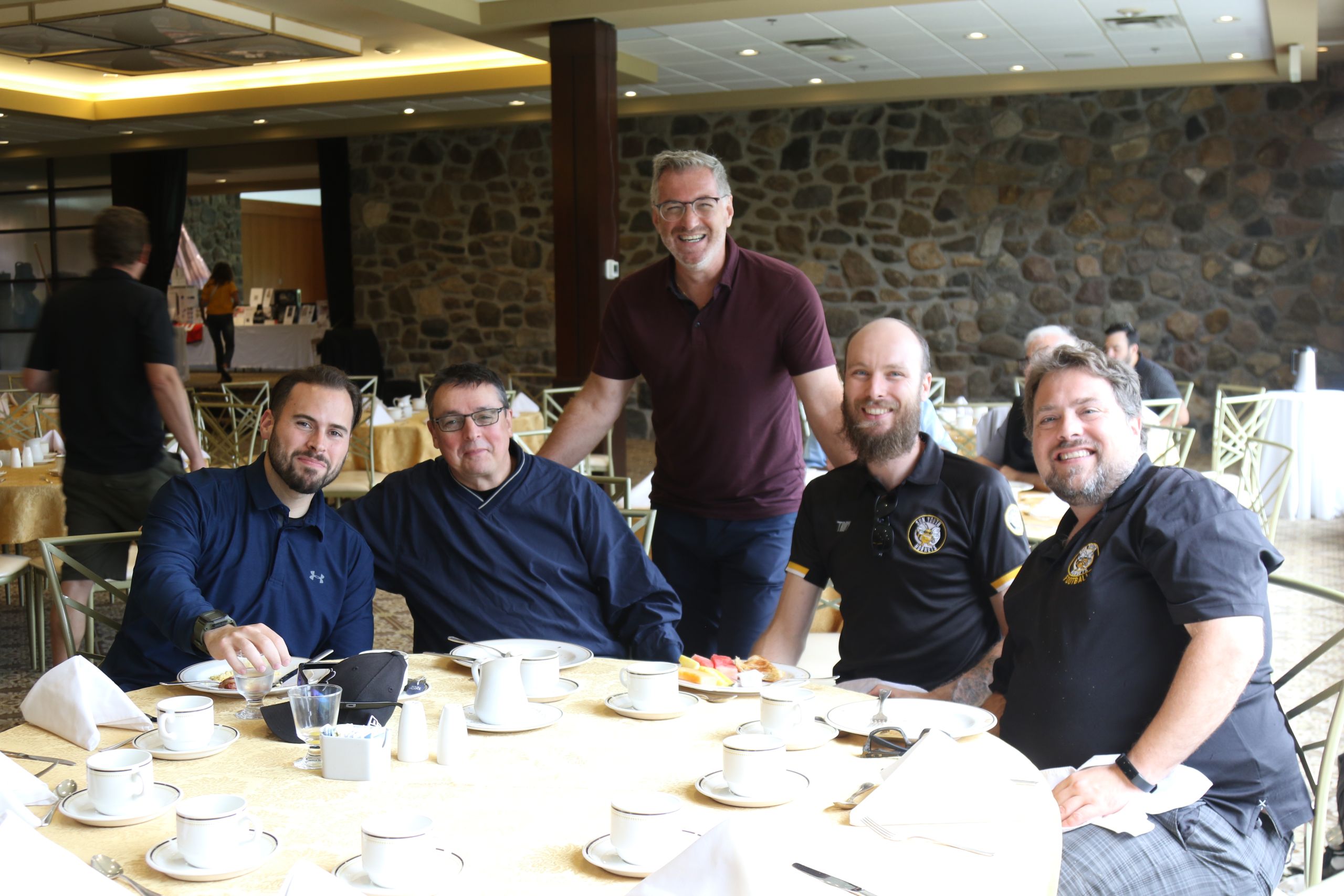 Falkbuilt Greater Montreal was once again a main sponsor of the event. In the above picture, owner Renzo Fraraccio is posing with Sun Youth football coaches who came out to support the cause.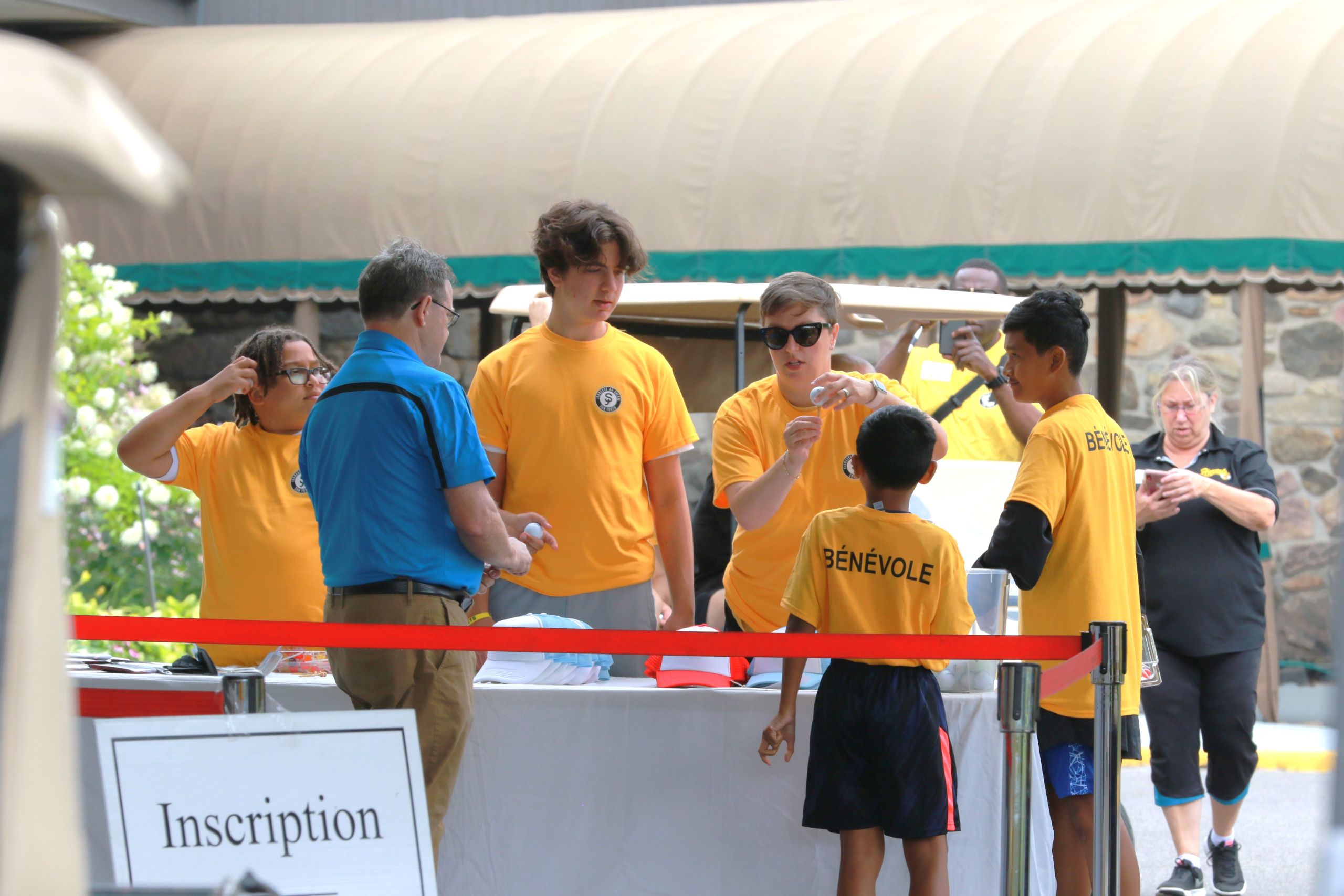 Sun Youth Hornets, coaches and managers volunteered on the morning of the event, giving golfers their loot bags and joining in the fun.
Huge thanks to our sponsors
Thanks to the generosity of all those in attendance and to the support of donors and volunteers past and present, Sun Youth has raised more than $1,300,000 in the last 20 years. Special thanks go to our main sponsors Des Sources Chrysler Dodge Jeep RAM Fiat, Falkbuilt Greater Montreal and Pipe & Piling Supplies Ltd. for renewing their support. Thank you as well to the tournament's major sponsors Fabricland Distributors Inc., National Bank of Canada, The Gustav Levinschi Foundation, Fuze Logistics Services, and the Montreal Gazette. A big thank you to our new Sponsors, Marwan and Angela Hage, LCM Attorneys, Légico and Air Canada Foundation.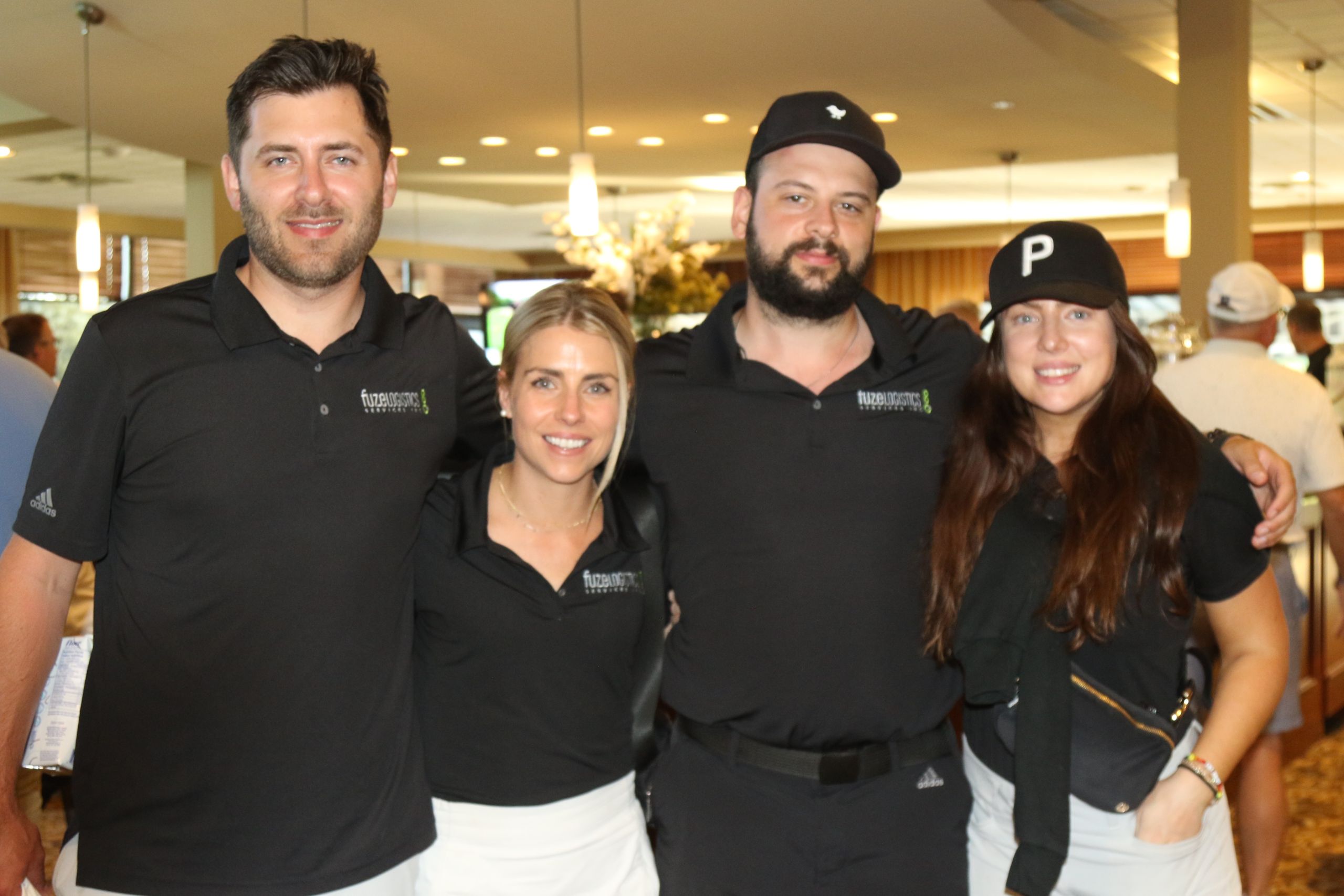 For the second year in a row, Fuze logistics employees represented their company, one of the event sponsors.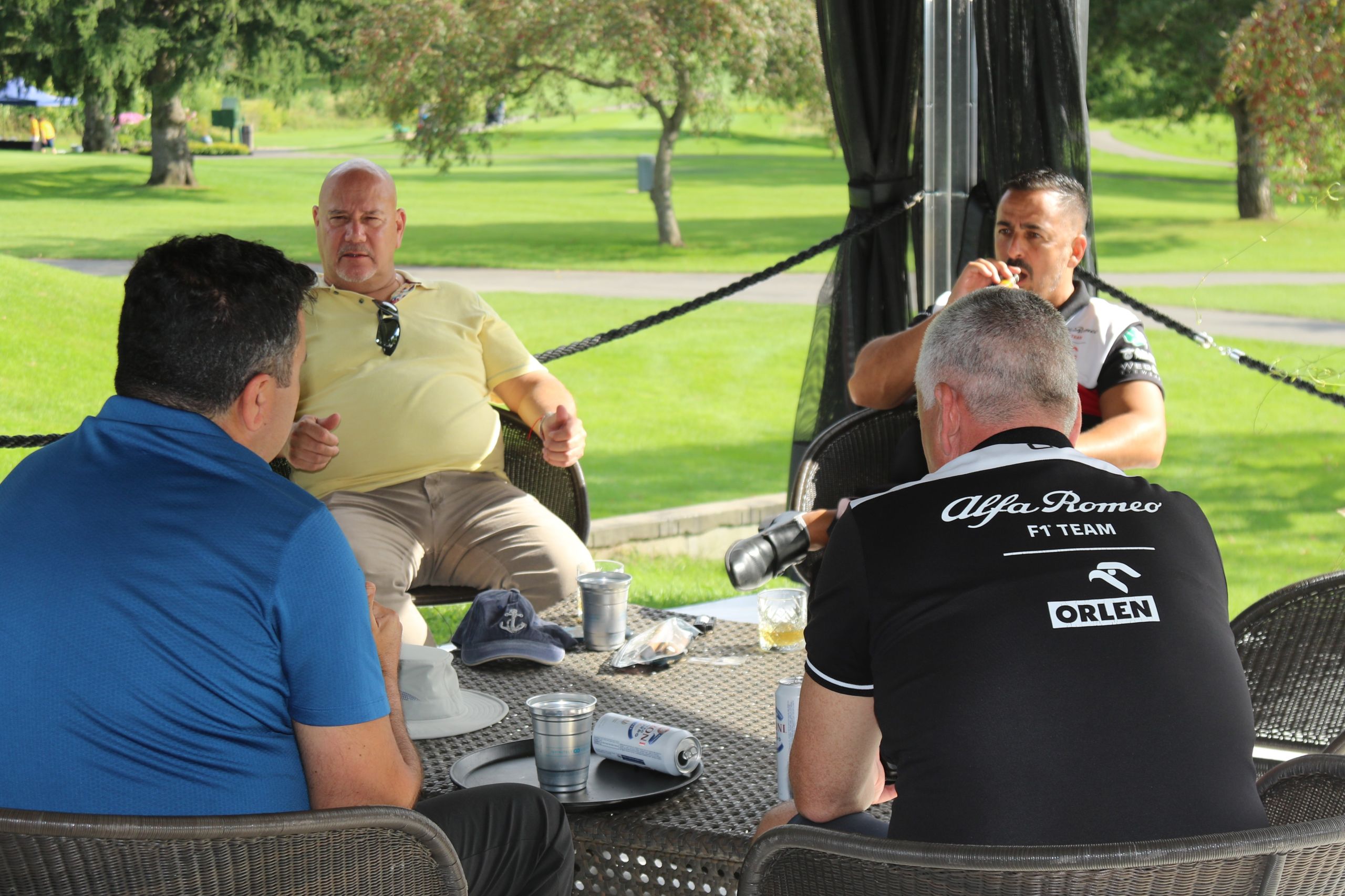 Des Sources owners Sebastian Pitruzzello and Benny Bouganim having a drink with long-time donor of Sun Youth, Terry Pomerantz.
At the end of another beautiful day, (the tournament has never been cancelled because of the weather in 20 years!), all guests regrouped at the clubhouse for cocktails and delicious food. The founding members, Marvin Pascal, Lewis Israel, and the late Mordy Gordon were saluted for their dedication of the past two decades. The first two were present for the festivities while Frances Gordon represented her late husband. Also in attendance, Jamie Ross and Ernie Rosa were on the first organizing committee, 20 years ago.
Special thanks to our Masters of Ceremonies  Joey Elias and Meeker Guerrier for hosting the evening and also taking on auctioneer duties for our live auction featuring a Montreal Canadiens game in a Loge graciously offered by the Montreal Gazette and tickets to see a New York Jets NFL football game. 
Popular online auction items included CF Montreal tickets and a signed jersey, Stokes Triple Swiss Grill & Raclette Set and a Promix Plus Stand Mixer, Sanuvox Biopur – Portable Air Purifier, BMW watch from BMW Laval and a Dallas Cowboys replica helmet from Riddell. Paintings from volunteer and local artist Mrs. Phyllis Leibov were also on display.
Tickets to the Montreal Canadiens, gift certificates from Fairmont Queen Elizabeth, Le Serpent, Le Filet and Le Chasse et Pêche, as well as Parc Safari, Museum of Illusions and Tyrolienne Mtl Zipline, were very popular. Many signed picture frames from Montreal legends Guy Lafleur, Jean Béliveau, Patrick Roy, Vladimir Guerrero and Tim Raines found new homes that evening.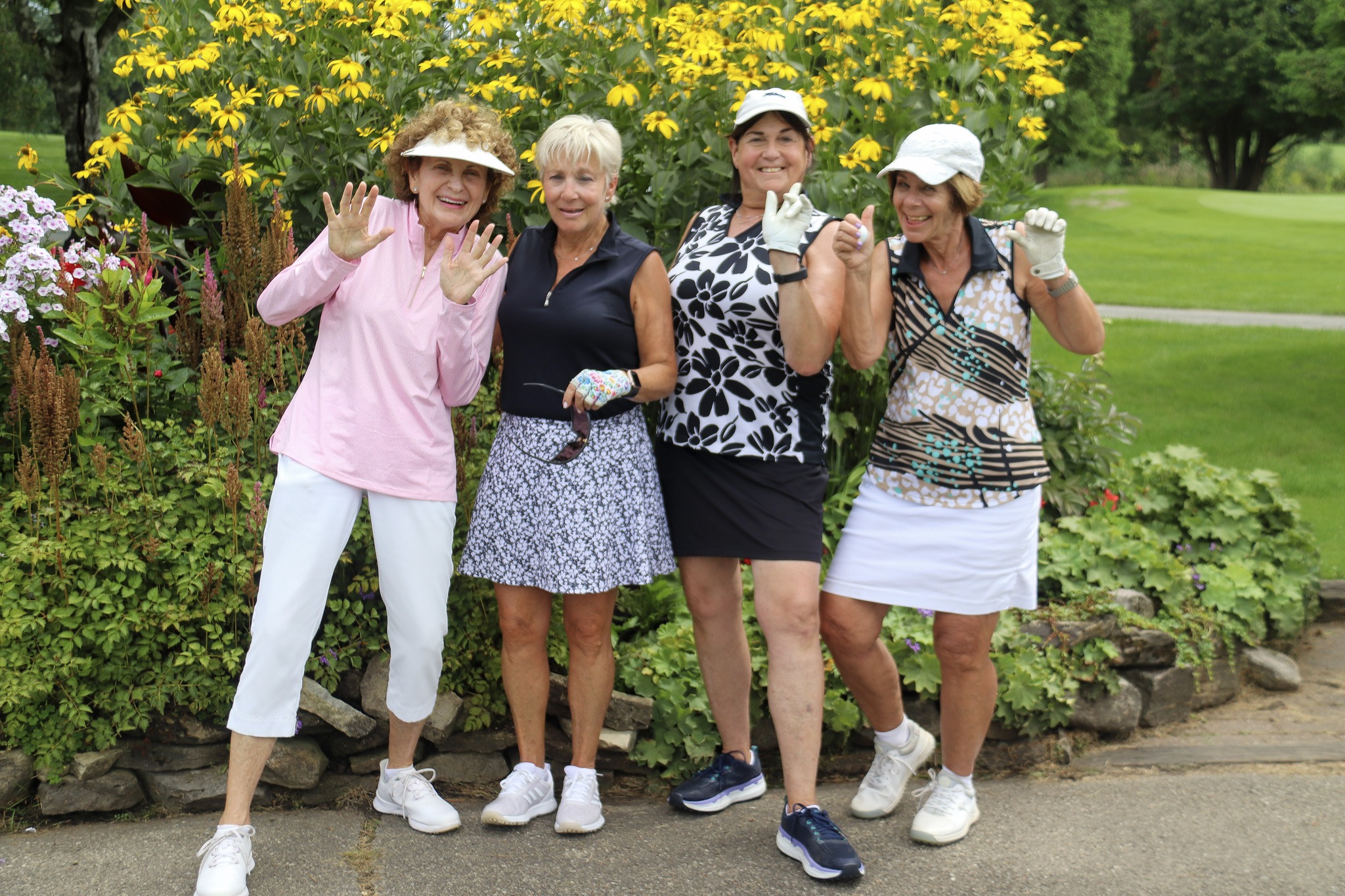 Morris "Mordy" Gordon, Lewis Israel, and Marvin Pascal, started this tournament. The Gordon family was once again represented by the late Mordy Gordon's widow, Frances Gordon and friends.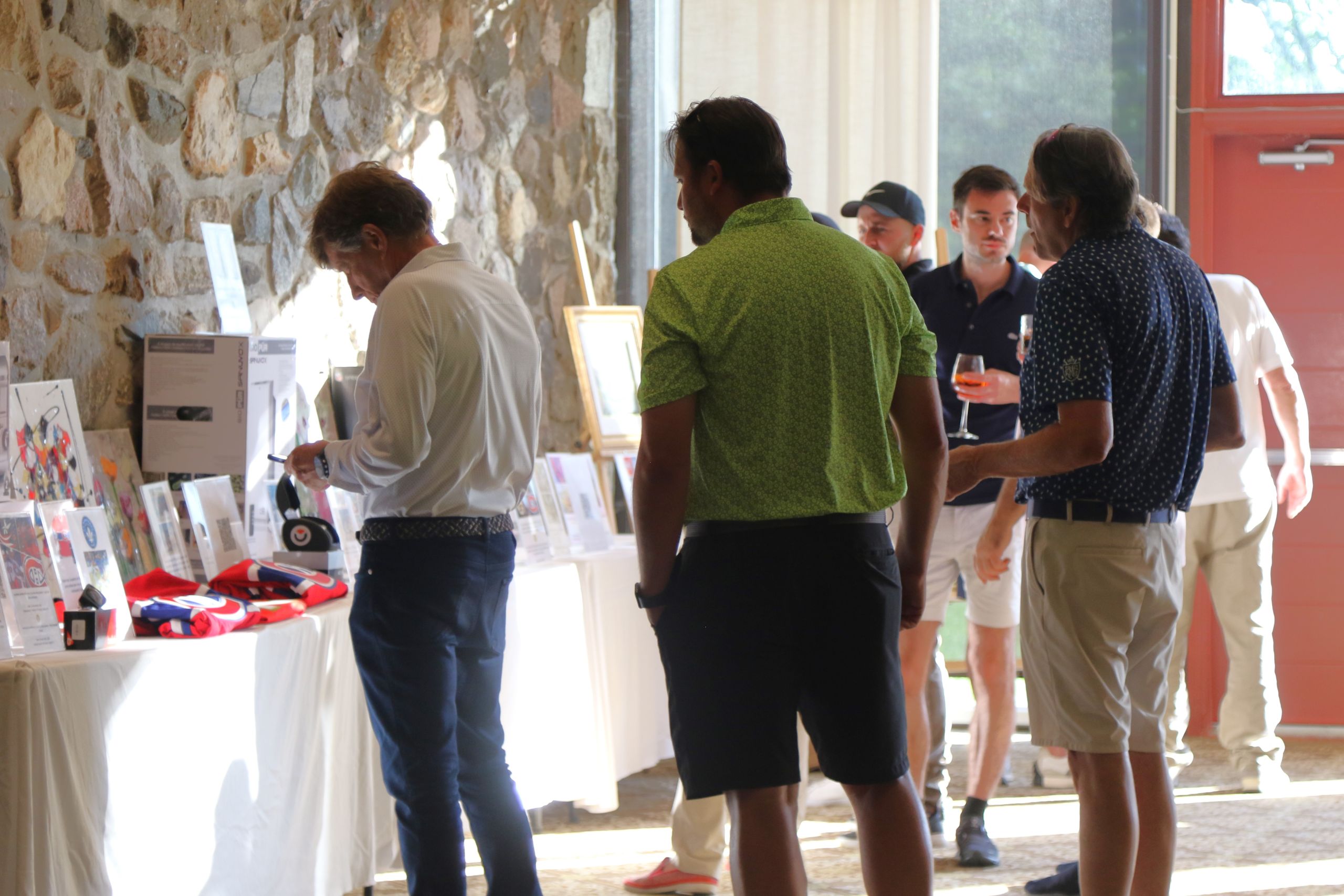 Many interesting items were offered through auctions, including paintings, gift certificates to the finest Montreal restaurants, tickets to sports and cultural events, as well as sports memorabilia.
Lucky winners walked away with some great gifts from "Earl's Auction": Girl's toys & art basket from Danawares, Montreal Alouettes tickets and swag, a signed CF Montreal Soccer Ball, gift certificates from Klar Vision, Segal Centre, Centaur, Theatre du Nouveau Monde and McCord Museum and much more.
Our live raffle included 2 tickets from the Air Canada Foundation and a 55 inches smart TV.
Our sincere thanks to the volunteers on the Golf organizing committee (Marvin Pascal, Jamie Ross and Dimitrios Manolopoulos), our sponsors, all golfers, cyclists and volunteers on the day of (special thanks to Phyllis Leibov & friends).
Special Thank you to our Sun Youth Bike Patrollers, who cycled and manned our hydrations station. We would also like to thank the Elmridge Country Club for their warm welcome and special attention, gift sponsors Stokes, Spector and Canus, food sponsors La Trattoria, LaFrenaie, A Mara Espresso, Keith Petrovsky and Bicycles MCW for the bike tune-ups.
We hope to see everyone back next year for the 21st Sun Youth's Mordy Gordon Memorial Golf Tournament and Cyclothon!
To view the photo album, visit our Facebook page.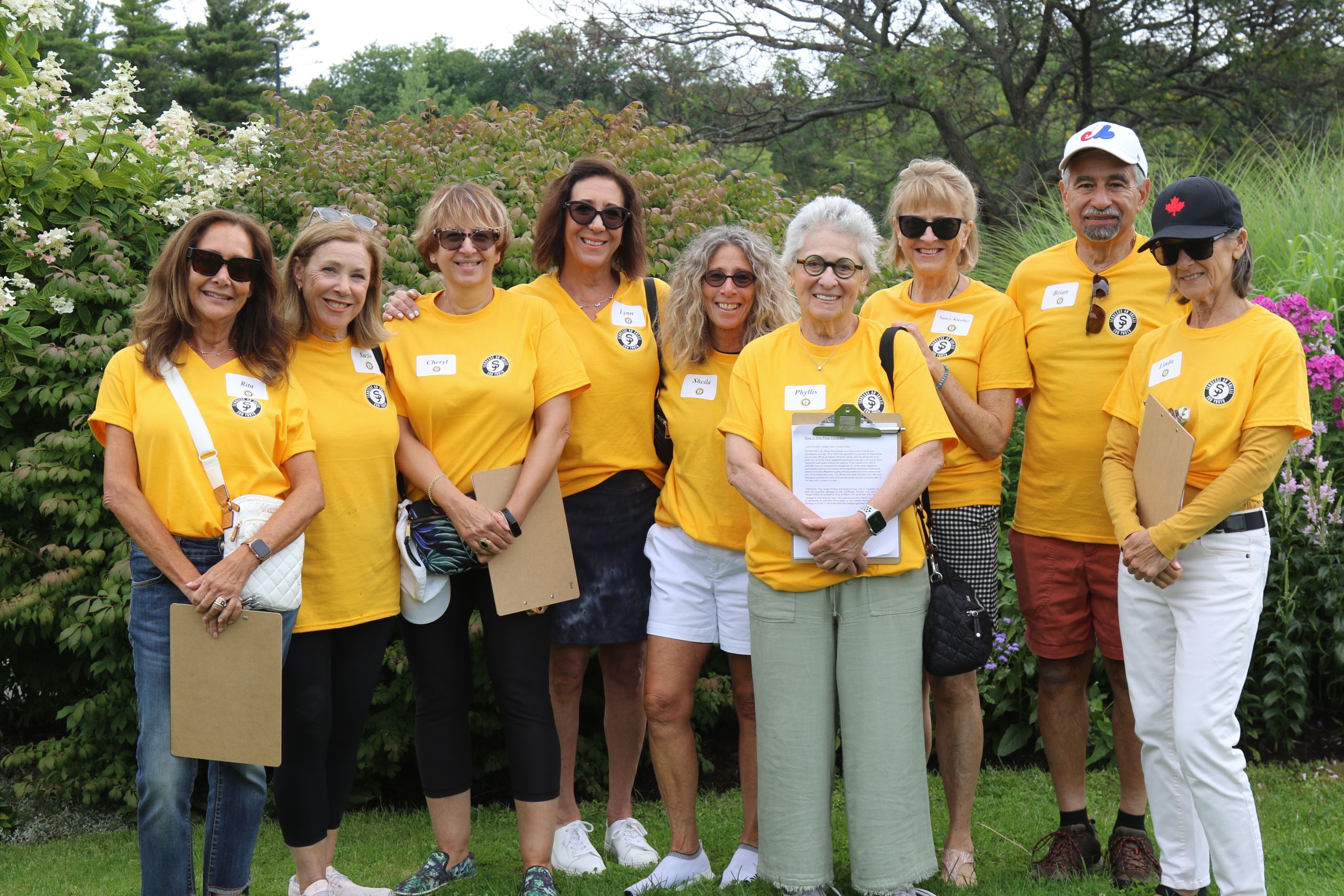 This event would not be possible without the help of numerous volunteers. We wish to give special thanks to Phyllis Leibov and her group of friends who volunteer for the organization all year round.
Cyclists of all ages enjoyed their day. Elliot Levine and granddaughter Izzy were once again part of the action.