The Kentokukan Fall Classic Karate Tournament Donates $1,000 to Sun Youth.
Karate is more than a sport; it is a way of life that encourages mutual support, respect, tolerance, self-fulfillment and benevolence. These values are at the core of the Kentokukan Karate Tournament that was held on November 18th at LaurenHill Academy Junior Campus in St. Laurent. Hundreds of youngsters from Dojos all over Quebec and Ontario participated in this annual competition.
Each year the Kentokukan tournament uses this opportunity to contribute and give back to Sun Youth, and this year was no different. The tournament donated over $1,000, amounting to $11,250 over the last 7 years. The funds will once again be put towards Sun Youth's program that fights bullying and promotes conflict resolution by placing a social mentor in various schools for the last 16 years. Acting as a positive role model for the students, the mentors create a trusting relationship with the students, which then translates into a positive and respectful environment for all.
In addition, during the tournament the registered Dojos were able to participate in a food drive as well, where the Dojo that made the greatest contribution of non-perishable food by weight, was presented with a trophy. Through this friendly competition hundreds of pounds of food were collected for Sun Youth's food bank, with the Seishinkan Dojo winning with 127lbs of food. "We, Kentokukan, feel it is very important that our youth learn to give back to the community and the less fortunate", commented Shihan Mark Filippelli. "Most of our children lead very privileged and protected lives and have parents that provide them with more than basic needs, so it is important that they understand about giving back and being appreciative."
The organization would like to thank Mark Filippelli and Giovanna Taddeo, two of the organizing members of the tournament. Sun Youth's Youth and Social Mentors program would not be possible without the unwavering support from groups like Shorinjiryu Kentokukan Karatedo.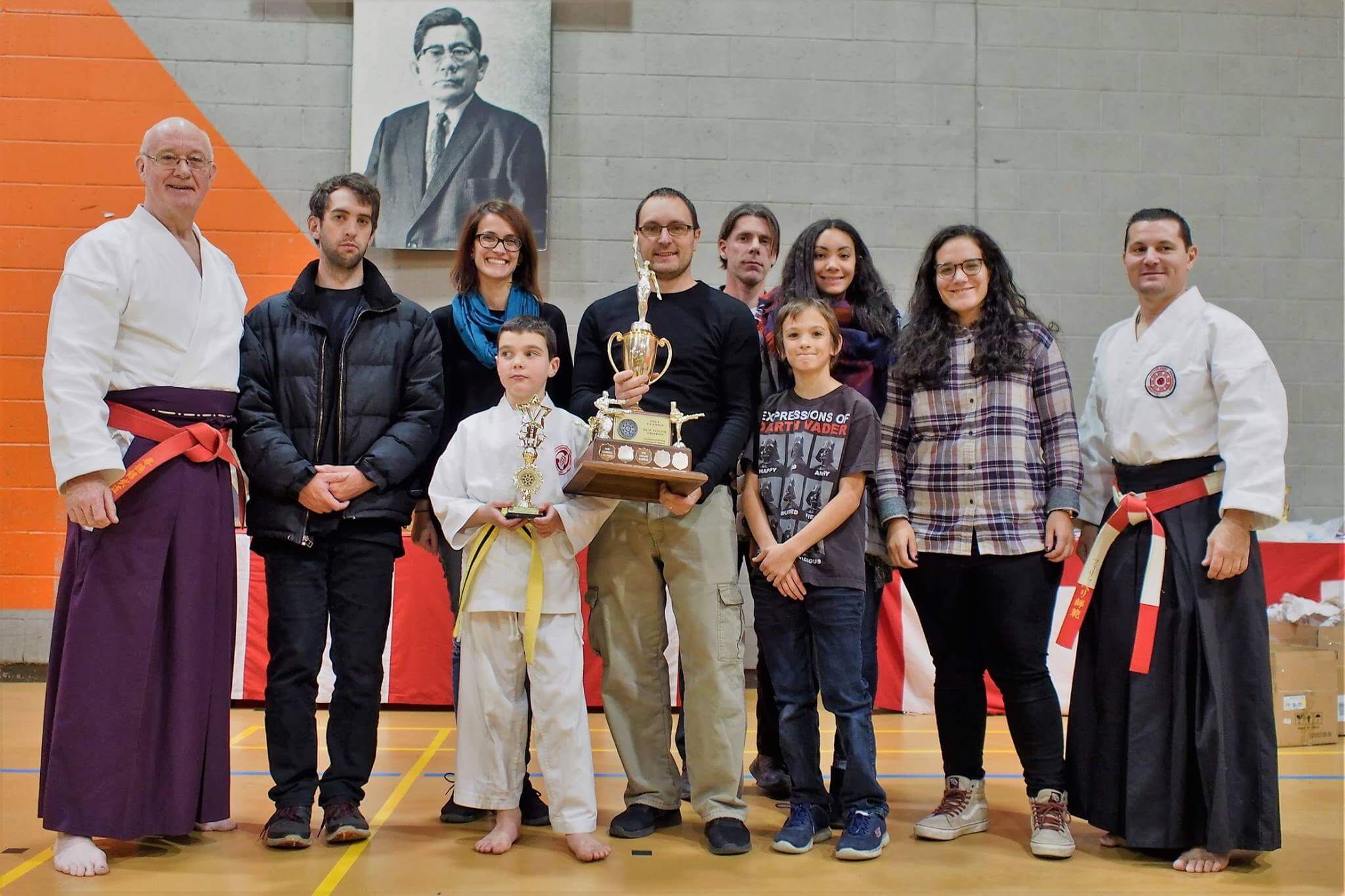 United for one cause: (left to right) Shihan Wayne Donivan, 9th dan and founder of Kentokukan, Sun Youth Bike Patroller Robert Parsons, Sun Youth Social Mentor Julie Bechay, William Grant from Shindo Budo Kwai – Sherbrooke, winner of the Sun Youth award for outstanding Karateka, Sun Youth Coordinator of Bike Patrol and Victim Services Jonathan Caisse, Sun Youth Social Mentor Richard Desautels, Sun Youth volunteer William Caisse-Tourigny, Sun Youth Bike Patroller Sara Yanez, Sun Youth volunteer Vanessa Afonso and Shihan Mark Filippelli, 6th dan, of Shorinjiryu Kentokukan Karatedo. Photo: Facebook.