Thanks to the many participants to the event and the various generous sponsors, $1035 were collected for Sun Youth.
On December 16, 2017, Dorval's Monster Gym was the host of the Montreal Brazilian Jiu-Jitsu Roll-O-Thon, a fundraiser for Sun Youth's Annual Holiday campaign to help the organization to purchase toys for underprivileged children.
The two-part event consisted of a self-defense class for women based on Brazilian Jiu-Jitsu and offered by coaches Ron Pattyn and Charles Macdonald while the latter part featured an open mat concept (gi & no-gi) for all teachers and students from all the Jiu-jitsu schools to come and roll for a good cause. This was the perfect opportunity for all to get to know one another and to share knowledge and techniques.
Thanks to the many participants and the various generous sponsors, $1,035 were collected, which allowed Sun Youth to purchase many new toys for boys and girls 12 years and under. The organization would like to thank everyone who contributed, the West-Island Jiu-Jitsu members, coaches and Chief Organizer and Coordination Director of the event Ali Chalhoub, all of which were instrumental to the success of the event.
West-Island Jiu-Jitsu was founded in 2003 by Ron Pattyn and is the original Brazilian Jiu-Jitsu school of the West-Island in Montreal. Their mission is to empower those that need it the most through the leverage based techniques of Gracie Jiu-Jitsu. They pride themselves in making this martial arts available to everyone with their beginner program, advanced program, Jiu-Jitsu for children and women as well as Thai Boxing classes.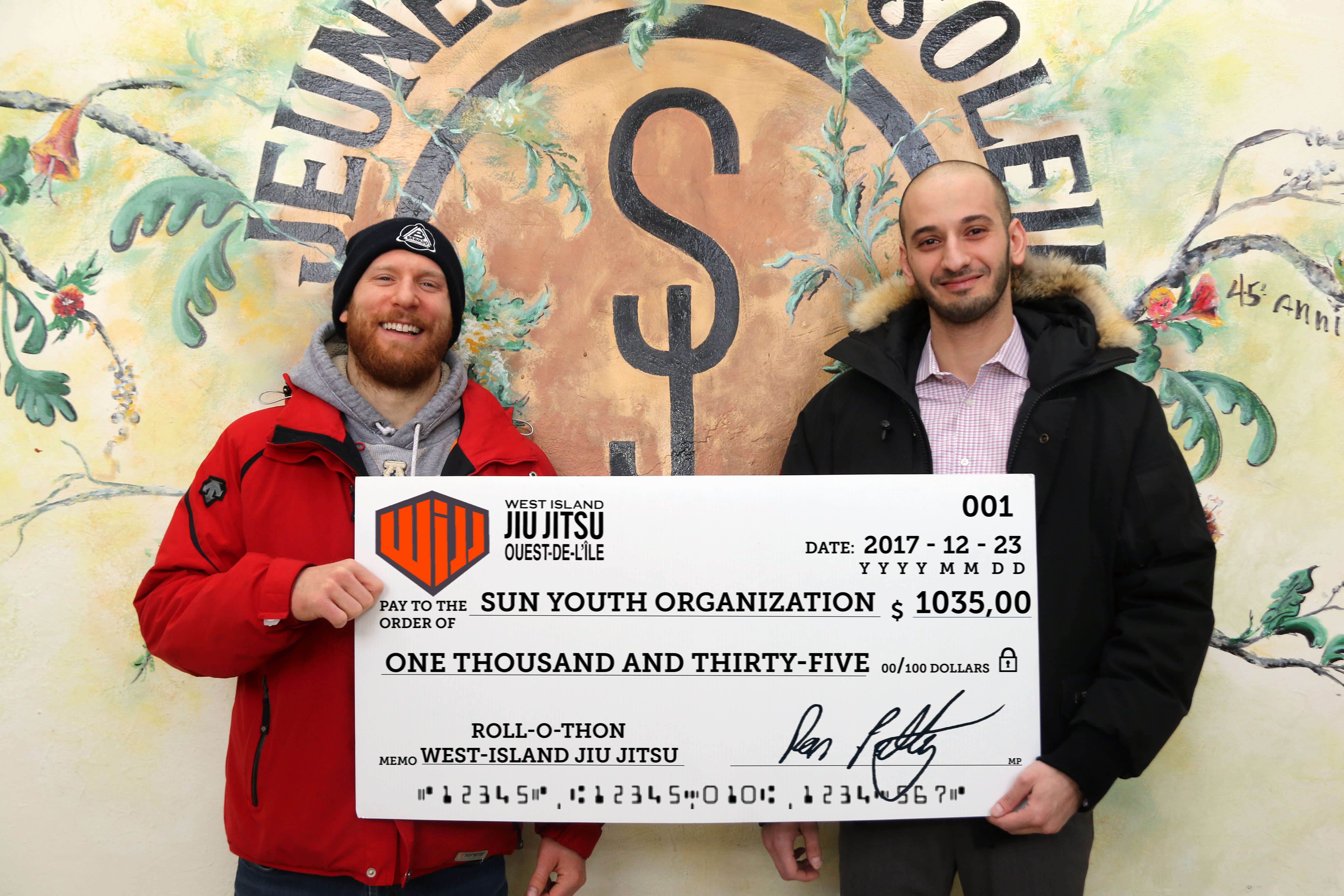 Charles Macdonald and Ali Chalhoub from West-Island Jiu Jitsu presenting the profits raised at their December 16th Roll-O-Thon event. Photo: Nicolas Carpentier.