The Fair-Play tournament helped raise more than $2500 for our sports and recreation youth programs.
Sun Youth quickly came to mind when Laila Piumbini started organizing a fundraising soccer tournament with her friends. Having grown up in the Plateau area, Laila was well aware of the Saint-Urbain street organization's mission. Her friends all played sports at Sun Youth and she remembers growing up wishing the organization had a soccer team.
Proud daughter of a single and hard working mom, Laila has a real passion for soccer and even now plays in three different leagues. After graduating from the John Molson School of Business and finding employment as an Investment Representative at the Royal Bank of Canada, she felt ready to give back to the community.
Laila's fiancé, Joseph Francis Espinosa, shares her passion for the sport and community involvement and helped organize the event. "From the first moment that Laila brought up the idea of combining sports and charity, I jumped on the opportunity", says Espinosa. "Knowing how Sun Youth is an organization that focuses on trying to balance the playing field for everyone, I was truly inspired. From there I started brainstorming and the notion of the name "Fair-Play" seamlessly came to me like an organic process."
Giving everyone the chance to play applies not only to origins and financial means but also to gender issues. There was never any doubt in the organizers' minds that the tournament would be co-ed, available to both women and men. "I am fortunate to have moved to a country in which the boys I was playing soccer with didn't expel me at once from the soccer field because I was a girl", explains Laila. "Instead, they became my friends and would even share tips and tricks on the field with me. I had a dream as a little girl to play on the same team as the boys. I always thought it was silly that they separated me from my friends based on my gender and not my skills. "Therefore, making this tournament as a co-ed soccer event wasn't only a way for me to realize that dream I had but also to inspire other young girls."
On October 21st 2017, 8 teams competed at the Soccerplexe Catalogna in Lasalle, amongst which the Beauties and the Beasts, the Rainbow, the Blue Devils and Chelsea (both RBC teams). The tournament was won by the River Rats in a riveting final against the Child Support team and helped raise more than $2500 for Sun Youth's sports and recreation youth programs. "It is really important for me to support Sun Youth and to create an event like this for the kids because soccer is an international sport that not only brings boys and girls together but it brings people from different countries together. There is a power to the sport that transcends borders and conflicts."
The event would not have been possible without sponsors such as CappCo, the Mindful and Fit gym, the Rasoi restaurant and especially without the contribution of the RBC NextGen employee resource group. "RBC NextGen is a movement to enable RBC employees in their 20s and 30s to build connections with peers and leaders while creating positive impact within RBC and in the community." (source: RBC website). The Soccer Fair Play Tournament was the first of what the organizers hope to be a new tradition and, faithful to the RBC NextGen vision, has already laid the basis of a network which might lead to Laila's childhood dream of making soccer available to kids in the Plateau Jeanne-Mance district a reality through the help of many volunteers and Sun Youth Organization.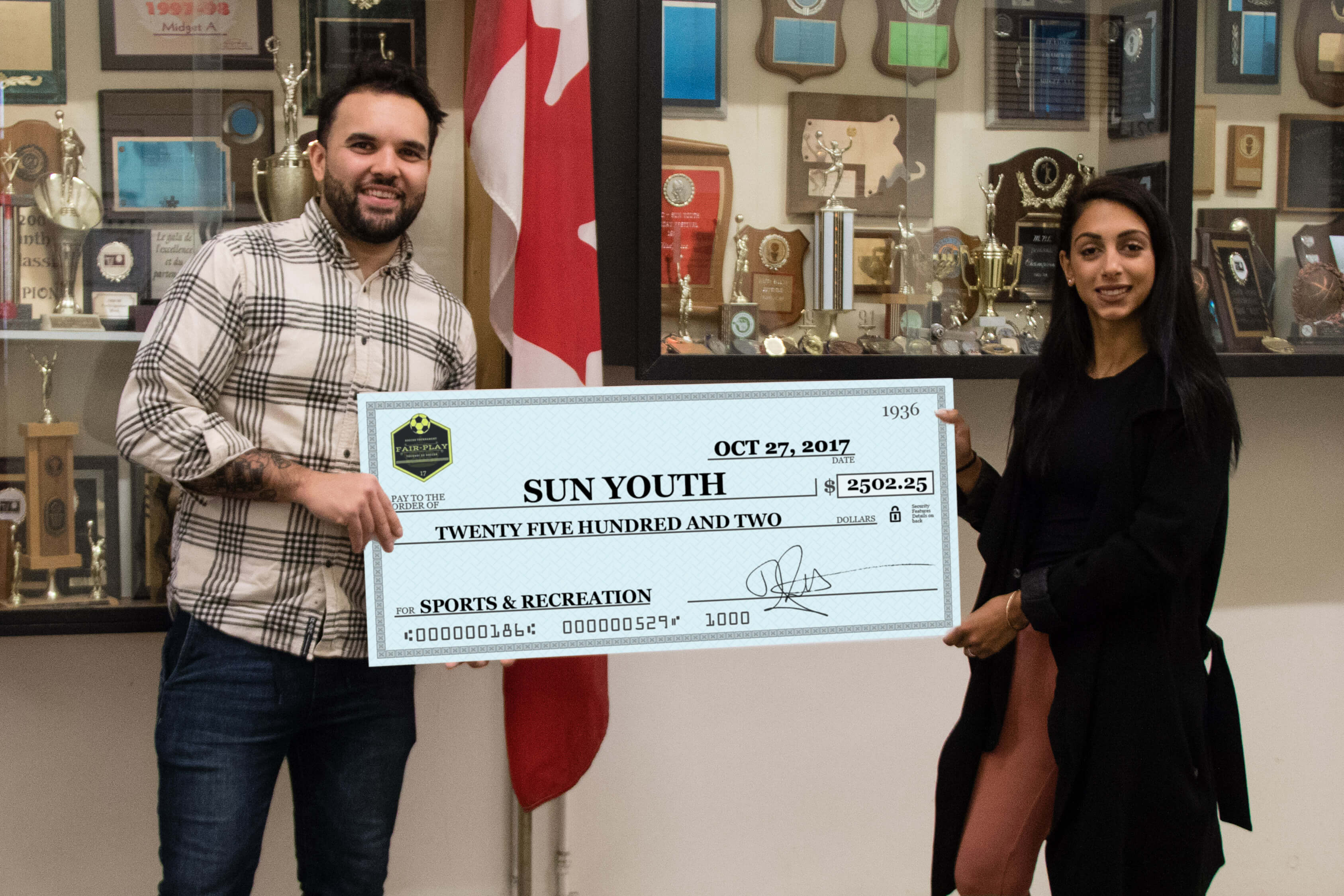 Joseph Francis Espinosa and Laila Piumbini presenting the profits from the Fair-Play Soccer Tournament to Sun Youth. Photo: Ann St Arnaud.