Fans were treated to a fantastic 38th Sun Youth Basketball Holiday Classic, December 20th to 23rd, with several teams making their mark. For a second year in a row, St-Laurent High School welcomed young athletes to its gym. For the first time this year, the tournament was broadcast live on Sun Youth's Facebook page so that no one would miss the action.
Young players, aged between 16 and 21 years old, won the audience's attention with their high game level.  5 of the top 25 Canadian High School Rankings, according to North Pole Hoops, participated in the tournament, including Canada Topflight Academy, Thornlea Secondary School, Vaughan Prep All Access, Halifax Prep and King's Christian. NCAA university coaches were also present to evaluate and recruit young athletes. Several Sun Youth alumni played in the tournament including Champlain Cavaliers' Obinna Uzoma Dike-Nwagbara and Bertrand Masabo and Champlain Lennoxville's Lambert Kikundule.
Teams from across Canada battled to dethrone Thetford Academy. However, it was the Canada Topflight Academy team that, in the last minute of the semi-final, defeated the champions of the last two years by 94-91. Their strength and agility kept the team at the top and allowed them to win 85-73 in the final against Brébeuf in their very first tournament appearance. Congratulations to Canada Topflight Academy.
Sun Youth would like to congratulate all the teams that participated in this year's edition of the tournament: Champlain College, Champlain Lennoxville, Brébeuf College, Shawinigan College, Dawson College, Thetford College, Thornlea Secondary School (ONT), King's Christian (ONT), St-Laurent High School (Montréal) and Vaughan Preparatory School (ONT) and Halifax Prep (NS). Finally, Ottawa Next Level (ONT), Canada Topflight Academy (ONT) and RWI Kings (ONT).
 Sun Youth would like to thank all the athletes who took part in the tournament this year, all the coaches and support staff. A big shout-out to Elias Sbiet and the whole North Pole Hoops team for covering the event with such care. Special thanks to all the volunteers who donated their time to the tournament, especially the referees of the Metropolitan Montreal Basketball Referee Association (MMBRA (MMBRA), whose renewed support allows the organization to present its Holiday Tournament year after year. Thanks also to Saint-Laurent High School for hosting the tournament again this year.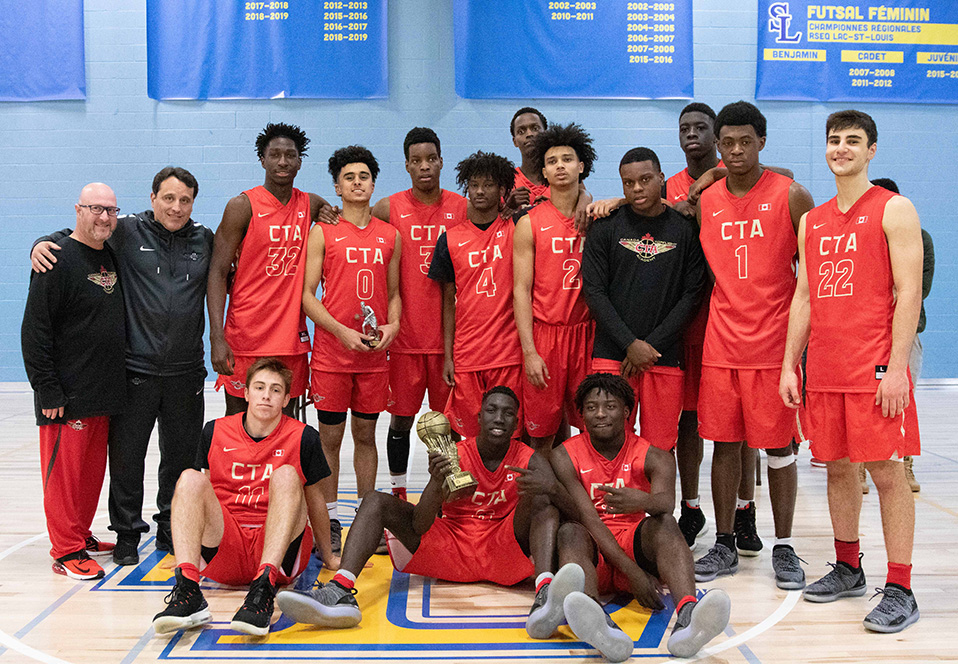 Congratulations to Canada Topflight Academy for winning the 2018 Holiday Classic Tournament. Photo: Caroline Viger-Lazare