On October 10, 2019 the Sûreté du Québec (SQ) established a mobile command post in Val-d'Or to gather information from the public to advance the investigation into the disappearance of Sindy Ruperthouse who went missing in 2014. It was also the opportunity to announce the renewal of the $40,000 reward offered through Sun Youth to collect information on the whereabouts of Mrs. Ruperthouse who was last seen on April 23, 2014 in Val-d'Or. Since then many searches and verifications were conducted by the SQ in the hope of finding her. At the time of her disappearance, Sindy Ruperthouse was 44 years old, had black hair and brown eyes, was 5'4" tall and weighed 131 lbs. Anyone with information is asked to call the SQ at 1-800-659-4264. The reward is offered thanks to an anonymous donor of Sun Youth and expires on March 9, 2020.
Sun Youth's reward program
Citizens interested in the solving of certain criminal investigations donate sums of money to be offered by police forces as rewards to individuals providing information leading to the arrest and conviction of wanted criminals or to the location of a missing person. All rewards are first approved by the police force in charge of the investigation. They are offered for a limited period of time after which, as decided by the donor, they are renewed, or the money is returned to the donor or used in other crime prevention activities like in providing assistance to victims of criminal acts in particular. Sun Youth is the sole manager of these rewards. It acts as an intermediary between the anonymous donor and the police force in charge of the investigation and ensures that the reward can be made available to the police force, if necessary. Investigators are the ones who decide whether it is appropriate or not to grant a reward as well as the amount to be paid.
Created in 1991, Sun Youth's rewards program carries on thanks to a steady partnership with the City of Montreal Police Department (SPVM). Since then, other police forces have joined this Sun Youth's program: the Quebec Provincial Police in 2009 (Sûreté du Québec), the City of Laval Police Department in 2011, the Longueuil Police Department in 2012 and the OPP (Ontario Provincial Police) in 2014. In 2015, Sun Youth signed an agreement with its 6th police force, the Service de police de la Ville de Québec (SPVQ). Since 1991, Sun Youth's rewards program has helped solve 26 criminal investigations and cases of missing persons corresponding to 27% of all investigations for which a cash reward was offered. As of March 31st, 2019, the rewards granted amounted to $100,000.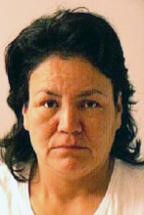 A $40,000 reward is offered through Sun Youth to help find Sindy Ruperthouse who has been missing from Val-d'Or since April 23, 2014. Photo courtesy of the SQ.