Fans were treated to a fantastic 37th Sun Youth basketball Holiday Classic with several teams making their mark.
Fans were treated to a fantastic 37th Sun Youth basketball Holiday Classic December 14th  to 17th , with several teams making their mark. Concordia University generously played host to most games, with École Secondaire St Laurent helping out as well.
Spreading the good word about Sun Youth was at the forefront, as people donated generously to the cause. The main events were on the hardwood: teams from across North America battled to dethrone Thetford Gold. Explosive dunks, intense physicality, and long range bombs were the order of the tourney.
Standout performances included fireworks from Sun Youth high-flying alumns Edsens Paul (Arlington Country Day, Florida), Eze Dike-Nwagbara (Kimball Union, New Hampshire) and Lambert Kikundule (Champlain Lennoxville, Quebec). Repeat MVP Quincy Guerrier and the others played under the watch of several NCAA and U-Sport scouts, another sign of the draw of the event.
The juggernaut coach Igor Rwigema has built in Thetford proved unstoppable. A tough Brébeuf team only relinquished the lead in the last minute of the semi-final; Notre Dame brought a physical unforgiving edge to the final; but Thetford Gold's depth, shooting, and star power were too much as they stormed to their second consecutive Holiday Classic championship.
All-tourney team:
PG – Fofo Adegotun, Notre Dame (2018)
SG – Nick Timberlake, Kimball Union(2018)
SF – Quincy Guerrier, Thetford Gold (2019)
PF – Jashon Henry, Notre Dame (2018)
C – Fardaws Aimaq, Bridgton Academy (2018)
Big props to all participating teams and coaches: Arlington Country Day (FL), Bridgton Academy (ME), Champlain College Lennoxville (Qc), Holy Heart of Mary (Nfld.), Jean-de Brébeuf (Qc), Kimball Union Academy (NH), Notre Dame Hounds (Sask.), Ottawa Next Level (Ont.), Thetford CEGEP (Qc), Thetford Academy (Qc), Vanier College (Qc), and the Sun Youth Hornets juvenile team.
The tournament would not be the success it is without the fantastic support of our fans, donors and sponsors: Dagwood's Subs, Seasoned Dreams, Recettes en Pots, Monster Stuff, Concordia Bookstore, Concordia University Athletics & Coach Rastko Popovic, Concordia University, École Secondaire St Laurent; and a big shout-out to the MMBRA referee's association for helping deliver another outstanding edition of the Classic. North Pole Hoops and Hoops on the Rise provided thorough top-level coverage.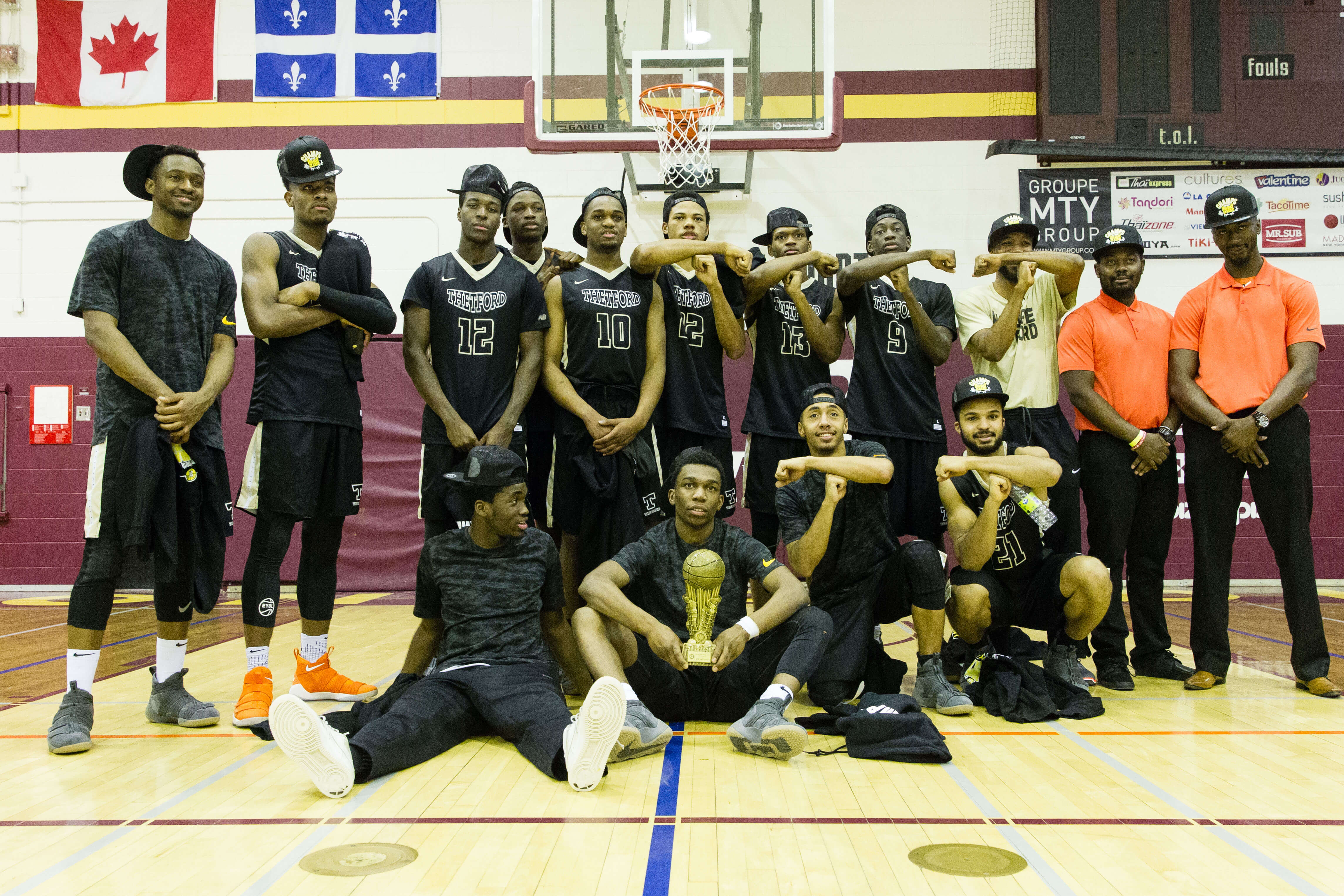 The Thetford Basketball Academy Team, winners of the 37th Annual Sun Youth Holiday Classic.