It's always a pleasure for Sun Youth to welcome its former athletes, especially when they come to give a hand. This is exactly what Hornets alumnus Aleck Brodeur did on February 16th and he didn't come empty-handed. He brought the Vanier Cup, which he won last football season with Université Laval's Rouge et Or. Aleck attended the weekend football practice and helped train the kids.
Aleck has been with the Rouge et Or since the 2016 Season, which saw his team win their 9th Vanier Cup by defeating the Calgary Dinos 31 to 26. While the team made it to the finals the next year without being able to get their hands on the cup, the 2018 season ended with the Rouge et Or reclaiming the Vanier Cup for a 10th time in their history by defeating the Western Ontario Mustangs 34-20. Needles to say Sun Youth is very proud of Aleck's track record. Likewise, the 23 year-old who studies to become a pharmacist is also proud to have been part of the Hornets football program and remembers fondly his years with Sun Youth, from 2011 to 2014. "I think Sun Youth is a great organization with all the volunteers giving so much of themselves", said Aleck when asked why it's important for him to give back to the organization that welcomed him in his younger years. "It's the least I can do!" For Aleck, the Hornets were much more than a football team. "It's also a team that will allow you to grow. The team really helped me develop as a person." Aleck considers that he grew not only through playing football with the organization, but with everything else that was available to him as a player: "We were fed, we had help with our homework and also a study hall. Football is only a small portion of what Sun Youth offers. These are years that I will never forget!" he says with a smile. "Their group dynamics is something I don't think you can find in any other team."
Aleck Brodeur had the opportunity to immerse himself back in that team spirit he so much appreciated as a Hornet. Aleck had the kindness of coming back to Sun Youth and assisted in the Saturday morning football practice for the kids. Before the session started he spoke to them about the importance of education and giving back to the community. He also had a surprise in store for the young athletes present, bringing with him the Vanier Cup for all to see and pose with, surely a moment that the kids aren't soon to forget. Most of all, the kids were able to benefit from the experience of an athlete currently playing with one of the best varsity football teams in the country.
Aleck is one of several Hornets alumni whose picture is featured on Sun Youth's Wall of Fame. Many like him made their way to the university and even professional ranks in football or basketball after playing for the organization. The Wall of Fame is a real testament to the legacy of Sun Youth cofounder Earl De La Perralle, who sadly passed away in 2018. Earl believed that success in sport should come second after achieving good grades in school and pursuing higher education. The one thing all former Hornets players have in common is the ability with which they were able to combine their studies and playing their sport.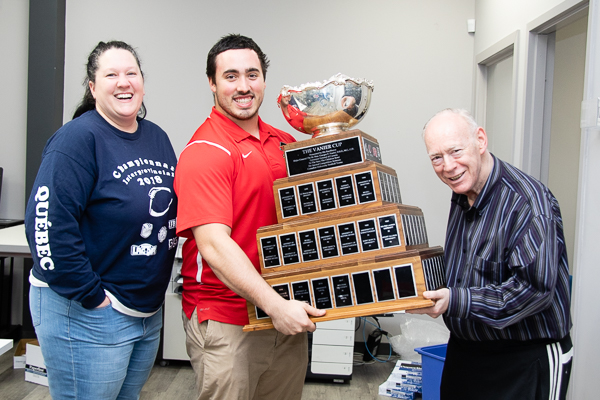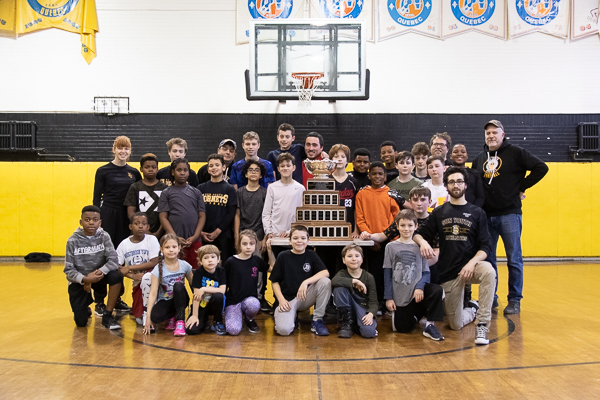 Rouge et Or football player Aleck Brodeur with Hornets players and coaches posing around the Vanier Cup.