Sun Youth signs a protocol agreement with the Ontario Provincial Police (OPP).
Signing of an Historic Agreement between the Ontario Provincial Police and Sun Youth regarding Reward Offers
On June 26, 2014 at the Prescott Russell Ambulance Base in Hawkesbury (Ontario), Sun Youth signed a protocol agreement with the Ontario Provincial Police (OPP) regarding reward offers. This historic protocol agreement was unveiled at a press conference where both entities announced a $100,000 reward offer for information that would lead to the arrest and conviction of the person(s) responsible for the death of Jessica Marie Lynne Godin. This Ontario woman was found dead on September 24 2011 in The Nation (Eastern Ontario) and police believes she was the victim of a hit-and-run occurrence.
This agreement provides an additional tool to investigators from the OPP, since it offers the possibility of using monetary rewards in very specific cases, in order to advance their investigations. These rewards can be made available to the OPP for information leading to the arrest and conviction of wanted criminals or to find a missing person. Monetary rewards offered by Sun Youth always come from anonymous donors.
Sun Youth has been acting as an intermediary between concerned donors and various police corps since the program started 1991 by providing them with an additional tool which has proved to be very effective over the years. In the last 24 years, 89 rewards were offered in various cases of wanted criminals or missing persons with a success rate of 28%. In addition to the original agreement with the SPVM and this new one with the OPP, Sun Youth has similar agreements signed with the Sûreté du Québec, the Service de protection des citoyens de Laval and the Service de police de l'agglomération de Longueuil.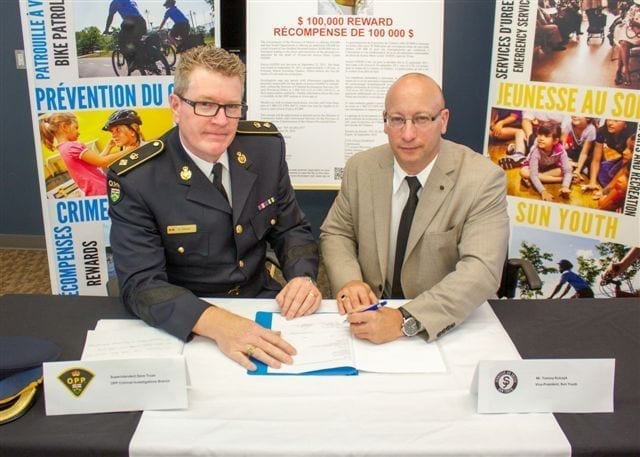 Dave Truax, Detective Superintendent Director, Criminal Investigation Services, Investigation and Support Bureau, Ontario Provincial Police with Mr. Tommy Kulczyk, Assistant to the Executive Vice-President and Director of Emergency Services and Communications officially signing the agreement between Sun Youth and the OPP. Photo: Joseph Munro.