On August 27th, the LFA hosted its Championship game for the benefit of Sun Youth's food bank.
For another year the Ligue Fédérale des As (LFA) and Sun Youth teamed up to fight hunger. On August 27th, the LFA hosted its first Inter-Divisional Championship in collaboration with the Brotherhood Hockey Association to benefit the organization's food bank. The finale featured the Montreal Division's seasonal champions, the SimWell Torpedoes, who defeated the South Shore Division's Meteores.
Over the years, the LFA and the Hockey Brotherhood Association have supported various programs of Sun Youth such as the organization's SLAP hockey program. For another year, more than a hundred people gathered on August 27th and offered their support to Sun Youth's food bank. Designed to meet emergency needs, the organization's food bank provides, on a monthly basis, assistance to some 2,400 low income individuals and families facing emergency or precarious situations. To fulfill its mission of feeding people living in poverty, Sun Youth can count on the support of partners such as the LFA, but also on the generosity of the population. People attending the game helped raise $ 7,349 for Sun Youth's emergency food bank. This service is also offering food supplement intended to help a vulnerable clientele with specific needs such as the elderly (including those requiring kosher food), pregnant women and HIV positive individuals.
Sun Youth would like to thank the organizers of the event and its many sponsors and donors, as well as all of the volunteers, the players and the hockey enthusiasts for their support. Special thanks go out to the LFA for the positive role it plays in the community.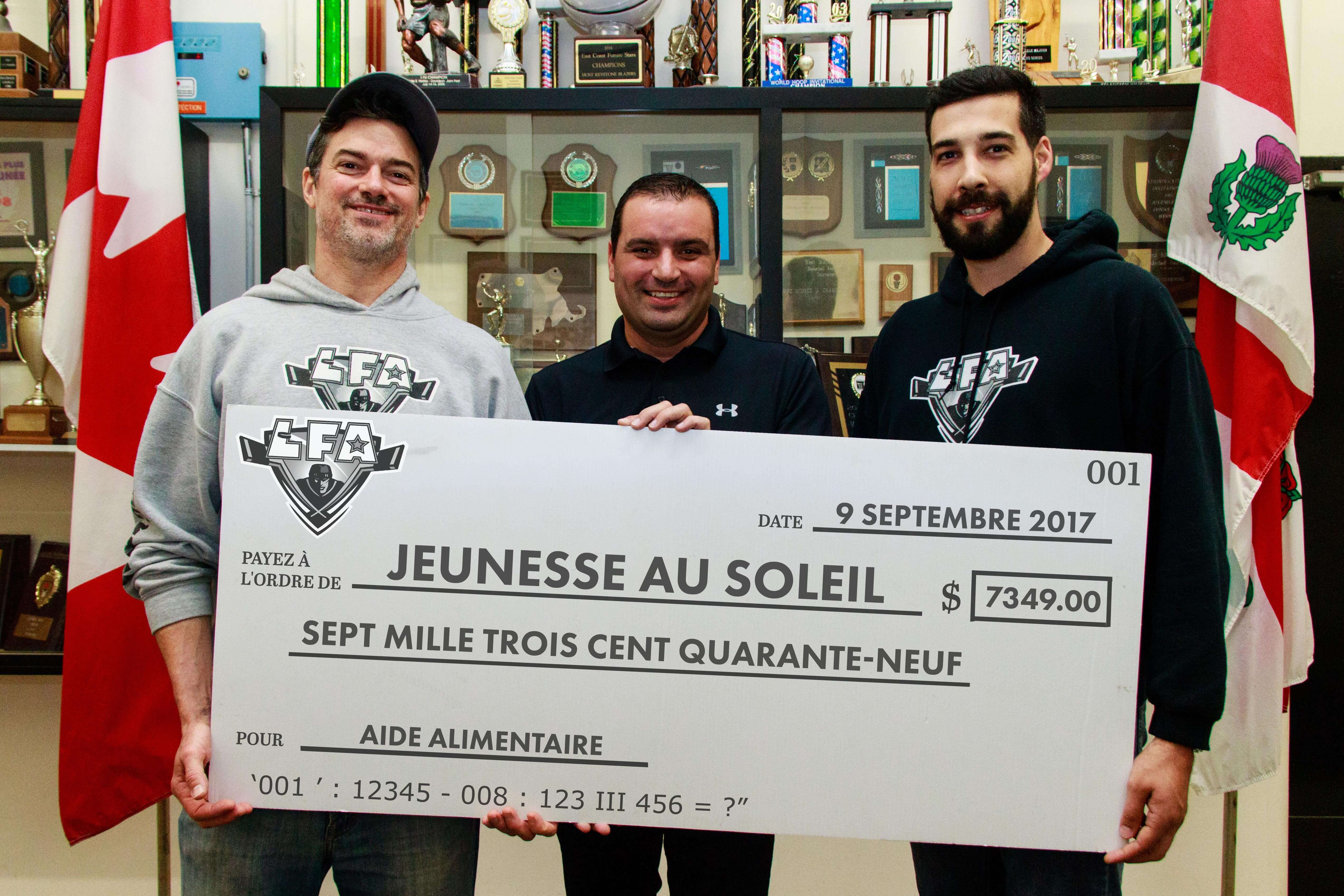 (From left to right) The CEO of the LFA, Jean-François DesBois with Helio Galego from Sun Youth and Jacob Poliquin, the Director of Communications of the league, during the check presentation.