Last December, our friend Jacques Chagnon celebrated his 30th year in the National Assembly as MNA for the riding of Westmount-Saint-Louis. It was thirty years ago that the late Robert Bourassa brought rookie Jacques Chagnon to Sun Youth's annual Christmas basket distribution. This marked the beginning of a partnership that has become an annual tradition. Over the past 30 years, Jacques Chagnon has tirelessly supported community organizations like Sun Youth, various hospitals, and universities in his riding. Jacques Chagnon's dedication, commitment and strong ties to the community are well known.
Having earned a BA in Political Science from Concordia University, Jacques Chagnon has had an exceptional political career, holding several positions within the provincial government. He served as member or chairman of several parliamentary committees, as Minister of Education and Public Security, and since 2011 serves as President of the National Assembly. In his role as President, he also acts as chair of the Committee on the National Assembly and chair of the Subcommittee on Parliamentary Reform. His diverse portfolio of parliamentary positions within the Quebec government has not stopped him from serving as President of the Parliamentary Confederation of the Americas and head of the Quebec section of the Assemblée parlementaire de la Francophonie.
Jacques Chagnon is a warm and kind person; a father to three daughters and four times a grandfather: he embodies the father figure role. His reassuring and steady presence may account for his success in keeping order in the National Assembly.
On April 9th, Jacques Chagnon's friends organized a fundraising dinner in honour of his 30 years of service in Quebec politics. Through this event, Sun Youth and the Women's Centre of Montreal, two organizations close to Mr. Jacques Chagnon's heart, each received $10,000.
On behalf of Sun Youth, we want to congratulate Mr. Jacques Chagnon for his 30 years of service to the people of Quebec. Thank you for having made a difference in the lives of so many!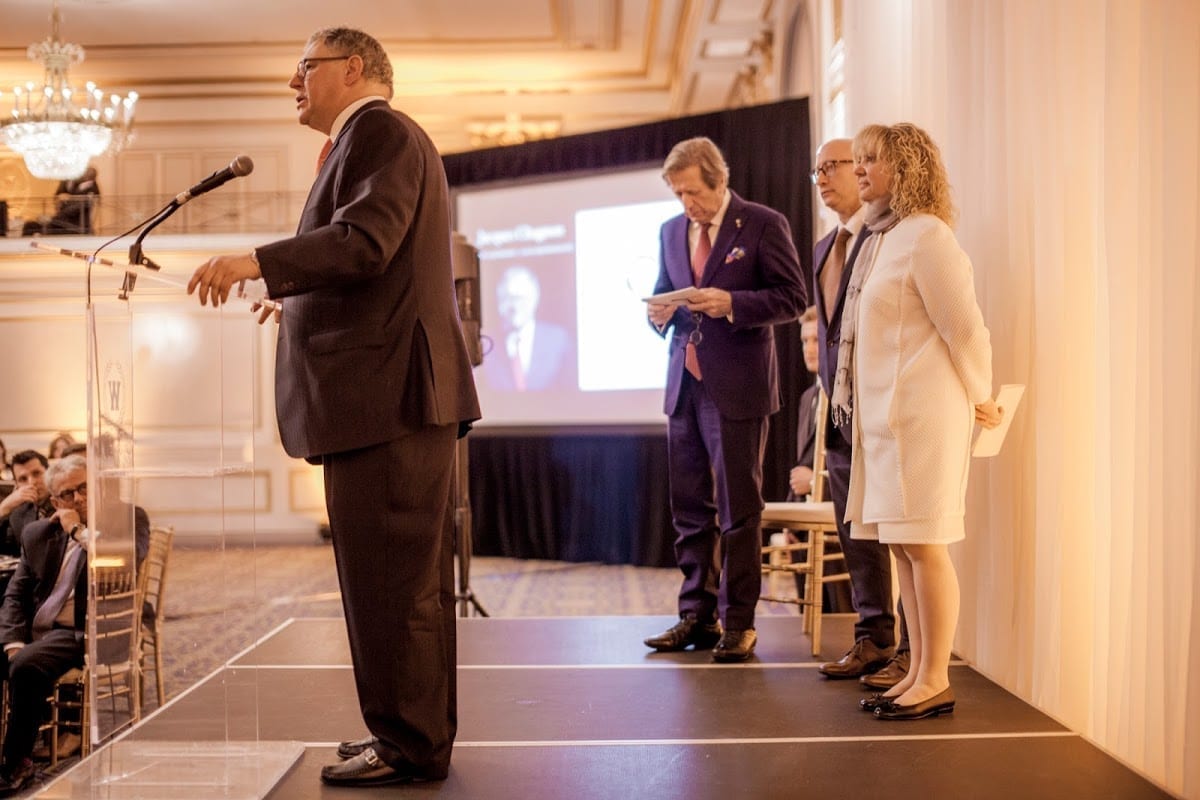 President of National Assembly and MNA for the riding of Westmount-Saint-Louis, Jacques Chagnon along with the evening MC, Albert Millaire, Sun Youth's Tommy Kulczyk and General Director of the Centre des Femmes, Johanne Bélisle. Photo credit: Megan Moore.