Dynacare helps families by giving a $3000 donation to the Pregnant Women Assistance Program.
For the third consecutive year, Dynacare, a health solutions company, has decided to help underprivileged families by giving a $3000 donation to Sun Youth's Pregnant Women Assistance Program.
This program offers pregnant women a monthly food supplement throughout their pregnancy and during the first three months of their child's life. Once the child is born, the new mothers are invited to visit Sun Youth to pick up clothes for their newborn and also baby accessories such as strollers, car seats, etc. Essential products such as diapers and formula milk may also be added to their monthly food supplement to ensure their child's well-being.
Dynacare's specific donation will be used to purchase milk and eggs, essential ingredients for many basic recipes, not to mention the health benefits they can provide. This donation will serve to ensure that vulnerable families, who count on Sun Youth's services every month, receive milk and eggs in their respective food baskets. The addition of these products represents a significant increase in the quality of the food baskets given and provides pregnant women in need with vital and complete nutrition, espacially essential proteins.
"We strongly believe in giving back to the communities in which we live and work. Supporting health and wellness organizations at the community level is a cause very close to our hearts. Dynacare and its employees support a variety of causes as a reflection of our corporate values.", says Salpi Oudabachian, Sales Manager, Physician market for Dynacare. On behalf of the many families who will benefit from this donation, Sun Youth would like to thank Dynacare for their renewed generosity.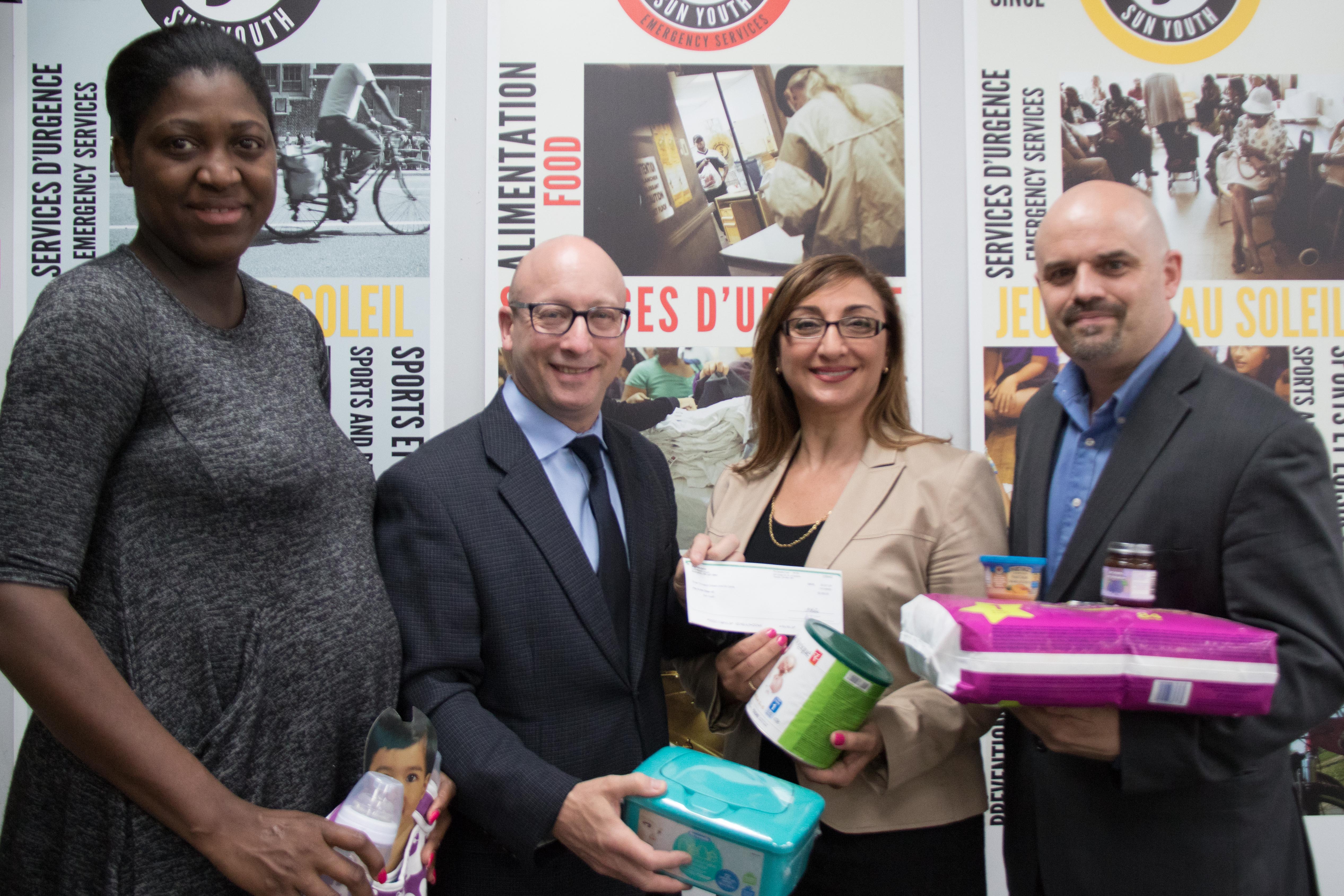 Present during the cheque presentation on June 7th 2016: Mrs Ludnie Jean-Philippe, member of Sun Youth's Pregnant Women Assistance Program, Mr. Tommy Kulczyk, Assistant Executive Vice-President and Director of Emergency Services & Communications for Sun Youth, Mrs Salpi Oudabachian, Sales manager, Physician Market for Dynacare and Mr. Graham Carpenter, representative of MP Thomas Mulcair.