Sun Youth Bantam AAA coach Rodney Skerritt was recently named coach of the year in the Montreal Basketball League (MBL) in which the organization's Hornets teams compete. This was a great honour for Sun Youth and for Skerritt for whom it was the second time receiving this award. Rodney Skerritt is also the Basketball Coordinator for Sun Youth but that doesn't stop him from … his passion, coaching. "I was completely committed this year and despite the ups and down during the season, I missed 3 practices due to the passing of a very close family member", says Skerritt. "Winning this second Coach of the Year award was a blessing and gave me the reassurance I needed to know that I made the right choice to come back and coach another year. My assistant coach, brother and best friend Peter Robinson sacrificed just as much as I did to give these kids one of the best seasons of their young careers and he deserves this award as much as I do or more."
Rodney Skerritt has been involved with the Sun Youth basketball program since the age of 12 after the Hornets coaches came to recruit players at his high school (Wagar). He decided to take them up on their offer and went to the tryouts for the Bantam AAA team.  10 years later Skerritt started coaching with the organization. "I'd just came back home from Bishops University. I was 22 years old and didn't know what was going to be my next move. My little brother was playing mini basketball at Sun Youth at that time for Coach Mark Burris. Mark and I had spoken a bit about where I was at in my life and he offered me to come and assist him with the mini team. I started coaching with him immediately and I haven't left Sun Youth since."
Rodney fondly remembers his first years with the Hornets and his first coach Robert Ferguson who offered to pick him up and drop him home every practice because his mother was scared of him traveling alone from NDG to Sun Youth on the Plateau. "This was instrumental in me developing my sense of loyalty and commitment that I now pass on to the kids at Sun Youth. I was far from being the best player on the team and coach Ferguson went out of his way to make sure that I didn't quit."  Rodney describes the Sun Youth basketball culture as quite unique: "it's all about trust, loyalty, commitment and pride. We truly are a family."
As in every family, all members are unique. "Each player is different in regards to personality and skill set. I see them as blank canvases. My goal is to help them paint a picture that they love, says Rodney. He hopes to have made a difference in their lives. "I think I've given kids, both elite and common, a place to call home. I've taught them to have high self-value and to be proud of who they are and where they are from." What he wishes to teach the kids the most is trust, loyalty and the commitment to improvement.
Being Basketball Coordinator and Coach for Sun Youth isn't always an easy task. The last year was a struggle for the organization, for its basketball program in particular. Rodney is especially proud of what he was able to accomplish with his team under the circumstances. "Parents, kids and coaches have to deal with a lot of matters that can't necessarily be prevented. This year we've raised above all the obstacles and finished the year off strong and as a family." Rodney also names a few Sun Youth alumni of who he's proud of and admires.  Former Hornets such as Eze Dike-Nwagbara, who is now playing division 1 basketball at Yale University and pro athlete Joel Anthony  (San Lorenzo de Almagro). "He is the perfect role models for our kids", he says about the latter. "His great career proves that hard work and commitment are some of the greatest assets to have when chasing your dreams," concludes Rodney.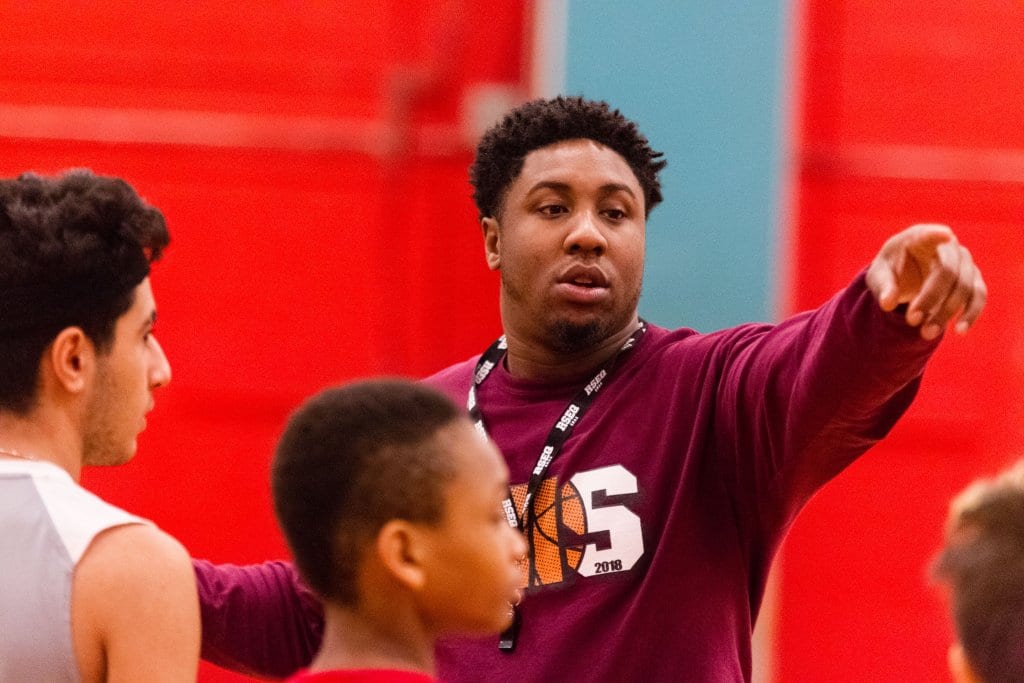 Sun Youth Bantam AAA coach Rodney Skerritt. Photo: Joseph Munro.