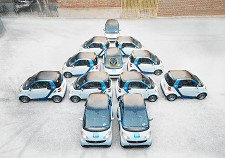 The Christmas Basket distribution continues at Sun Youth with the help of an army of dedicated volunteers.
Between 10 am and 1 pm, on December 19th, representatives of the Service de police de l'agglomération de Longueuil and Martin Coiteux, Minister responsible for Government Administration and Ongoing programs Review and President of the Québec Treasury Board, will joyfully give of their time to distribute non-perishable food, meat, dairy products, and little treats for the Holidays and gifts for children, to underprivileged families from Greater Montreal, making sure they can share in the warmth of Christmas. 
Sun Youth is thankful to the Fédération des producteurs de lait du Québec for its generous donation of 15,000 liters of milk for this Christmas.
Starting at 2 pm, a group from The Gazette will take over to assist Sun Youth's staff and volunteers. This holiday season, car2go gives Sun Youth "the gift of car-sharing". From December 18 to 24th, car2go's staff will accompany hundreds of people who could not, without help, bring back home their Christmas hamper because of their reduced mobility.
The traditional Holidays Basketball tournament is on its second day. Games start at 3 pm in Sun Youth's gymnasium.