HOCKEY
DEVELOPMENT
PROGRAM
The Sun Youth Hockey Development Program gives kids a chance to play and learn the fundamentals of hockey at a low price. This program is for boys and girls ages 5-11 years old.
LETS PLAY!
Hockey was one of the first team sports organized by Sun Youth, in the mid-Fifties. Over the years, our passion and enthusiasm for the sport has grown steadily, and we now wish to transmit it to new generations through our Sun Youth Hockey Development Program.
The mission of this program is to introduce children, aged between 5 and 11 years old and from low income families, to the fundamentals of the sport that would otherwise be inaccessible to them. The participants are first taught basic skating skills and eventually progress to proficiency in team concepts.
OVER 100
PLAYERS!
Since October 2016, our hockey development Program has expanded from Dollard-des-Ormeaux and is now available to young residents of Pierrefonds aged between 5 and 11 years old. Sponsored by the City of Montreal and the Pierrefonds-Roxboro Borough, this hockey development program takes place at the Pierrefonds Sportplexe. In 2021, we now include the St-Michel borough. Information for this sector is the following:
Location: St. Michel Arena.
Date: Saturdays (Start Date TBC)
Time: 6.30 to 8.00 PM
Duration of program: September 2021 to end of March 2022.
Blackout dates are Christmas, New Year, March break.
Age group: 5 to 11 years old Boys/Girls
Program Fee: $200.00
For more information, including the program in the other boroughs, write to Mr. Vinnie Matteo at vinnie.matteo@sunyouthorg.com.
On an annual basis, over 100 young players have the chance to thrive in a structured, safe, fun and educational environment under the supervision of volunteer coaches.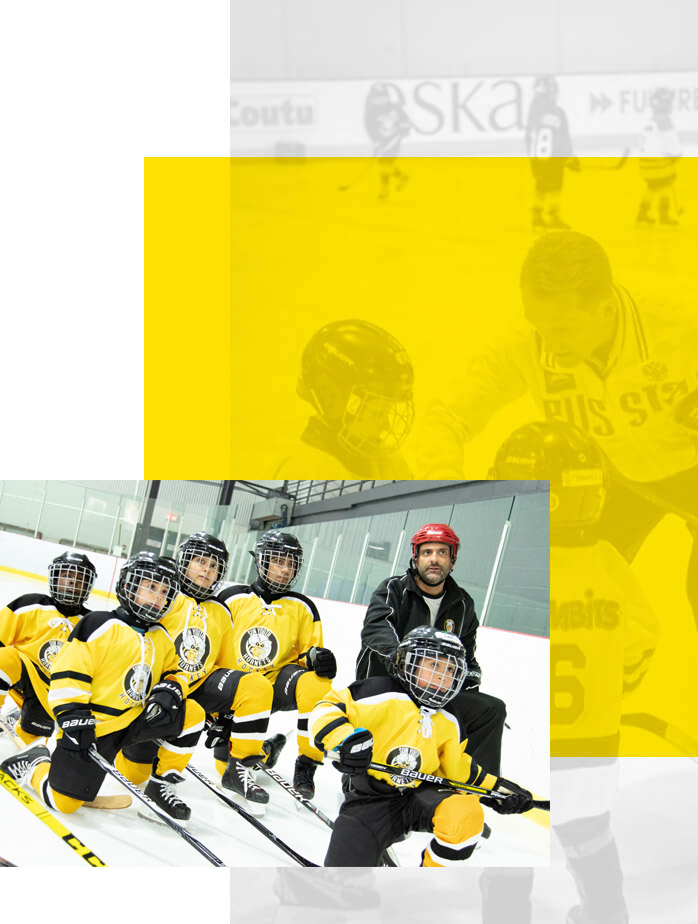 WALL OF FAME
Many of our former Hornets were able to pursue their dreams at the college,
university and even professional levels. We call them our wall of famers